The year 2014 has been an important one.EATC reached one stepping stone after another and achieved all the goals it aimed for.
Follow us on a journey through all the stages of a successfull year.

January
Since beginning of 2014 year EATC has taken over Operational Control (OPCON)
of to the Belgian Air Forces' VIP aircraft.
A short introduction to desribe the Belgian VIP-fleet:
The new assigned two Dassault Falcon DA-20 are mainly used for VIP flights, but can also operate medium or short range air transport (AT).
With max. 8 passengers onboard, the aircraft has a flight range of maximum 5.000 kilometers.
As a more strategic AT variant, the DA-900 can operate on a maximumof 6.500 kilometers with 12 passengers onboard -
equipped with an exceptional comfort.
The Belgian contribution contains also two Embraer ERJ 135 as well as two ERJ 145 aircraft.
First type has a capacity of 34 passengers, ERJ 145 can keep up of 49 passengers.
All four aircraft types can be equipped with up to three PTU's in order to conduct Aeromedical Evacuation missions as well.


Only few months later, EATC took also over OPCON (Operational Control) over the new Belgian Airbus A321.
Pictures: Belgian Luchtcomponent Media
February
The Aeromedical Evacuation Control Center (AECC) of the European Air Transport Command (EATC) organized a flight to pick up injuredUkrainian citizens within the aftermath of the events at the Maidan/Kiev.
For further treatment after in Germany, a medical team of the German armed forces was planned to fly over to Ukraine in order to identify and prepare a total of 24 injured Ukrainian citizens for the transport to Germany today. To conduct this mission the AECC chose the Airbus A310 in a MedEvac-configuration, one of the most advanced aircraft for Aeromedical Evacuation, situated at the EATC assigned Special Air Mission Wing MoD in Cologne.
Two weeks later the aircraft landed in Kiev.
First twelve patients were transported to the military hospital in Berlin, further to the civil hospitals "Charité" and "Vivantes".
The aircraft then turned over to Stuttgart for those patients aiming at the military hospital in Ulm, before it returned back to its home base as of Cologne, where the last patients were taken over for the final transport to the military hospital in Koblenz.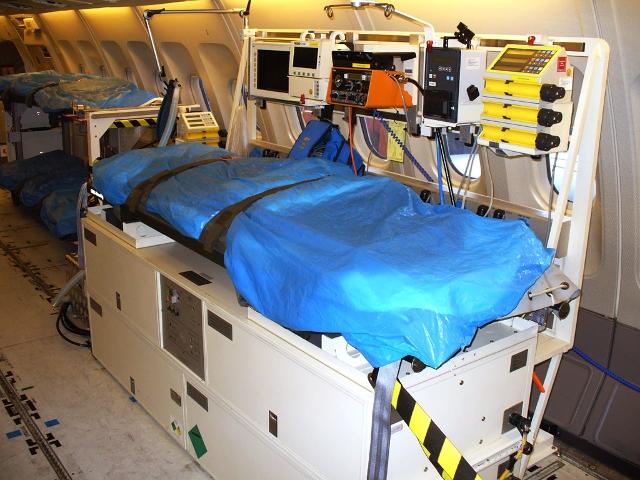 Pictures: German Air Force Media
March
The first European Air-to-Air Refuelling Training (EART 2014) started in late March 2014.
While the European fighter community had trained to operate together for years (e.g. Tactical Leadership Program (TLP), Flag exercises, large NATO exercises inside European airspace, etc.), the same cannot be stated for Air-to-Air Refuellinig (AAR), a special kind of Air Transport. But with regard to the lessons learned out of Unified Protector over Libya 2011, the need to supply and train together became bigger every day: not only is Europe lacking on tanker aircraft, also its AAR personnel lacks on international experience: First Objective was and is therefore to develop and conduct a multinational exercise dedicated to AAR inside Europe.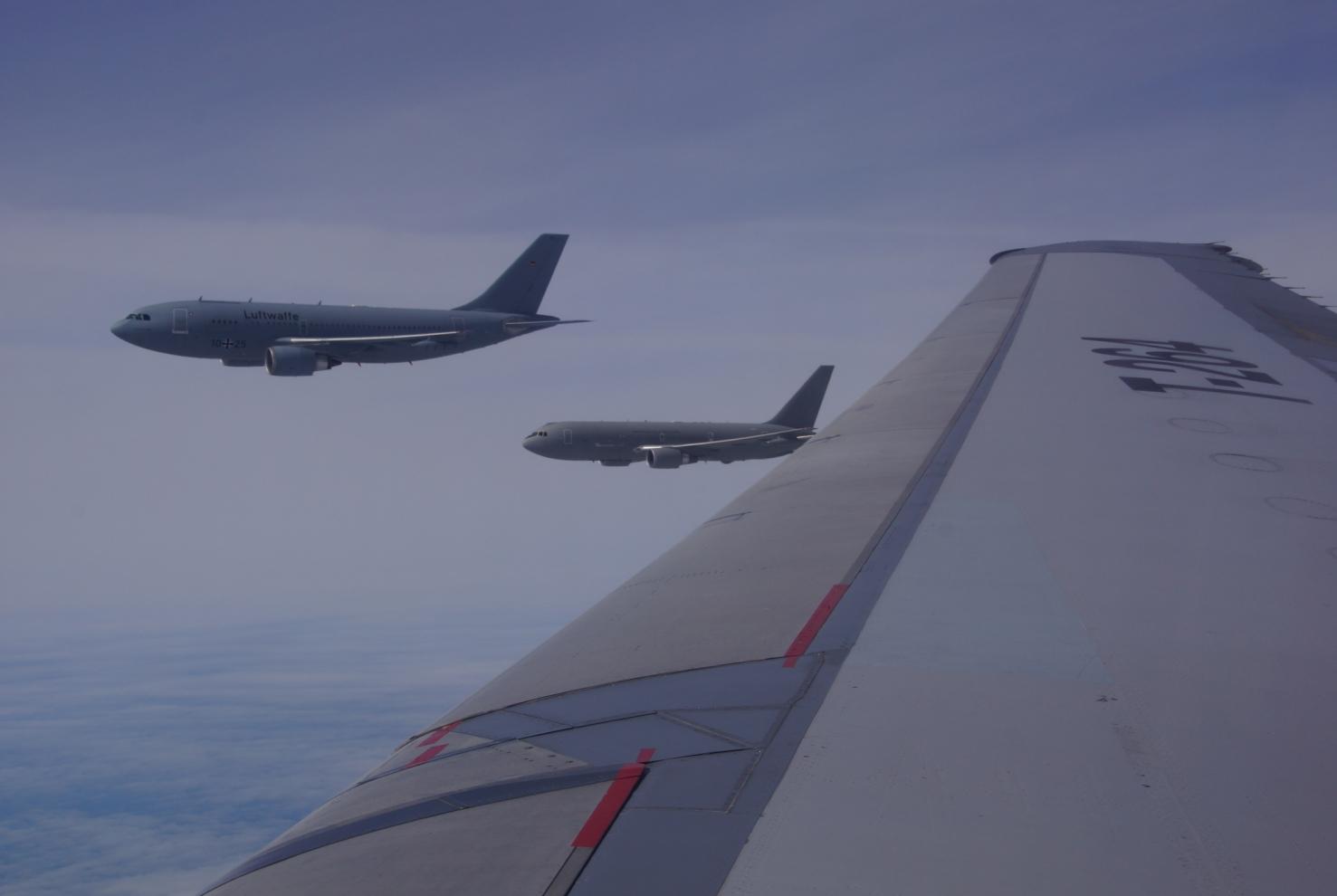 This need was recogniced by the European Defence Agency (EDA) and hence addressed to all EDA Participaing Nations. Convened by all the nations responds, EDA took over the lead to recommend different measures to overcome the EU tanker shortfall.
The running EART 2014 is one important outcome of a cooperation of EDA and EATC: the training will deliver AAR training over a two-week period duration, offering participants a unique opportunity to plan and execute missions within a multinational framework.
EART itself is merged into Frisian Flag. Both training/exercise are tactically organised and conducted by the Host Nation, the Netherlands.
During EART14 training development, FF 2014-bound as well as independent scenarios will be played for each mission according to its specific AAR characteristics and training requirements.
EART14 will be developed on an increasing complexity basis, starting from single ship missions and evolving to being part of COMAO missions within Frisian Flag 2014.
A German Airbus A310 MRTT, a Durch KDC-10 as well as an Italian KC-767A were complement on each other to achieve the best results within the given training objectives.
Find much more information at our EART website here.
Picture: Norbert Thomas
April
Mid of April, EATC together with the Dutch Movement and Transportation Coordination Centre (DVVO) planned and conducted a massive air deployment.
In few days Dutch Armed Forces were about to run a huge military exercise called "Varpalota Challenge 2014" in Hungary – with more than 2.600 Dutch military personnel participating.
For the deployment the DVVO had to choose the most appropriate mode of transport: After selecting the air transport-way (AT) to carry passengers and high value cargo, it appears obvious and cost effective to rely on EATC planning for the upcoming deployments.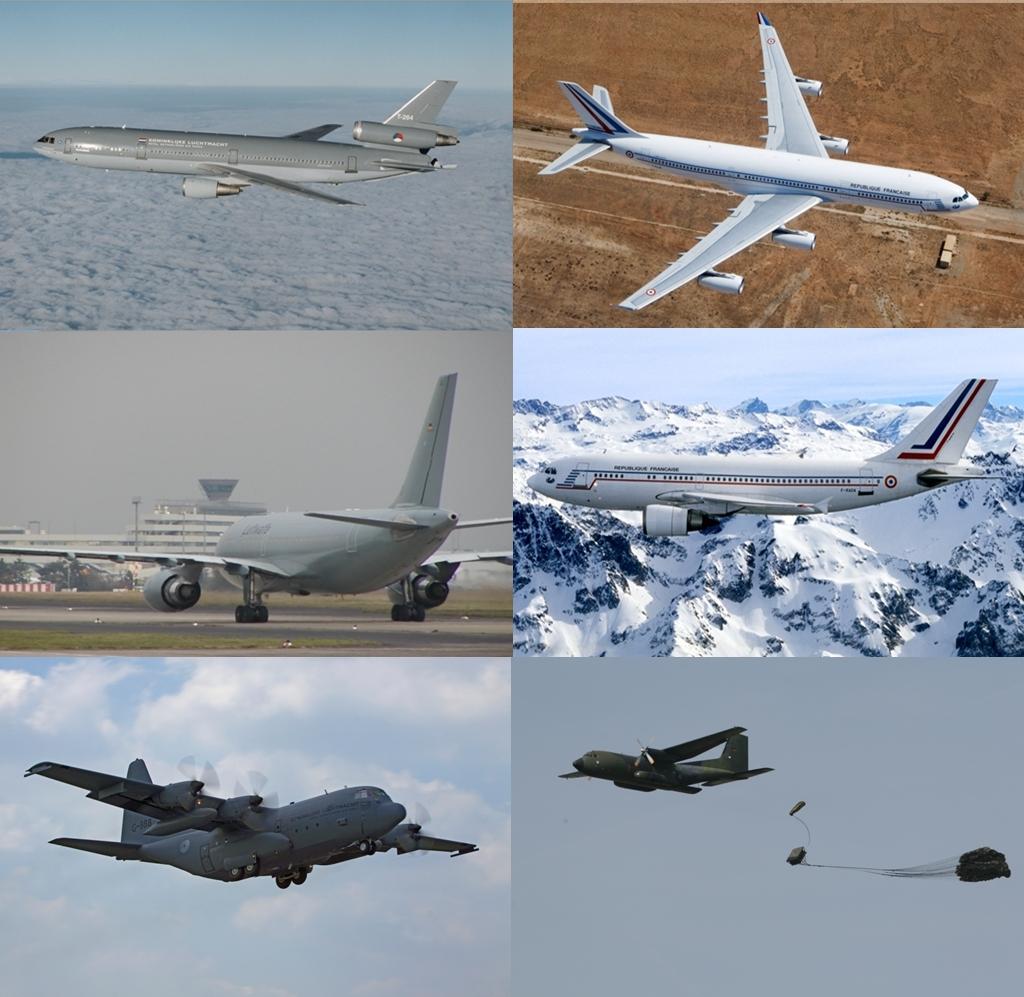 During a planning conference the DVVO exposed to the EATC Long Term Plan Branch - part of the EATC's Operational Division - the fixed deployment time and destinations. The result is impressive and could be considered to be the biggest air deployment of an exercise ever been planned and conducted by the EATC.
In total more than 40 flights were planned and shared between EATC Participating Nations: Ten Dutch C-130H/H-30 Hercules and 18 KDC-10 flights, six German C-160D Transall and six Airbus A310 missions as well as five French Airbus A340 and one A310 missions were on the scope. During the exercise period EATC expected to move more than 6.000 PAX and 37 tons of cargo as well as 480 paratroopers to be dropped.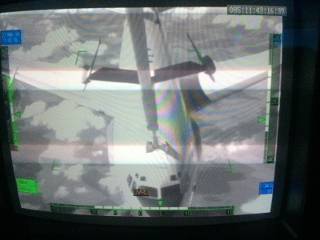 The same time - and under the operational control of the EATC - two Dutch KDC-10 were used to refuel the NATO E3-A AWACS aircraft executing surveillance at the Eastern NATO borders.
Operating solely from its main operating base at Geilenkirchen (Germany), the NATO E-3A Component flew a line of tasking every day to Romania as well as a second one every other day above Poland. These surveillance missions were shared with the E-3D Component, flying out of Waddington, United Kingdom.
The employment enhanced situational awareness and reassured NATO allies in the region. All AWACS surveillance flights took place solely over Alliance territory and no flights did take place over Ukraine. It was the North Atlantic Council (NAC) to decide on March 10, 2014 to employ NATO AWACS (Airborne Early Warning and Control Aircraft) surveillance aircraft over Poland and Romania.

The EATC concept of Pooling & Sharing constitutes an excellent means to support that kind of operations, moreover for the fact that the KDC-10 Tanker/Transport aircraft can execute further mission profiles to enhance efficiency.
Picture: Royal Netherlands Air Force Media
May