EATC plans strategic aeromedical evacuations of injured or sick persons by air assets from anywhere in the world to the patients' home country, or to a safe place where appropriate medical care is available. On average, EATC coordinates the worldwide transportation of over 1000 patients a year.
This coordination is done through EATC's Aeromedical Evacuation Control Centre (AECC). The AECC is embedded in the Operational Division.
The multinational AECC team is composed of flight surgeons and flight nurses - experts in aeromedical transports. The team assesses the national requests for aeromedical evacuations of patients, chooses the best transportation assets with regard to the medical requirement of the patient, and supervises the evacuation mission.
The AECC also aims at developing standardised procedures and cross-national certifications in the aeromedical evacuation domain. AECC's expertise in this field of work is widely recognized.
Moreover, in line with EATC's vision, the AECC aims at enhancing the efficiency and effectiveness of the multinational EATC fleet. At all moments, AECC matches the patient's needs with the best available transportation asset. Member nations can fully rely on EATC and relinquish costly air mobility solutions.
The number of cross-national flights - a patient is transported by another nation's asset – is increasing continuously. The following striking example shows the flexibility and efficiency achieved by cross-national cooperation, as well as the mutual trust and confidence between the medical personnel, the responsible military commands and the political leaders.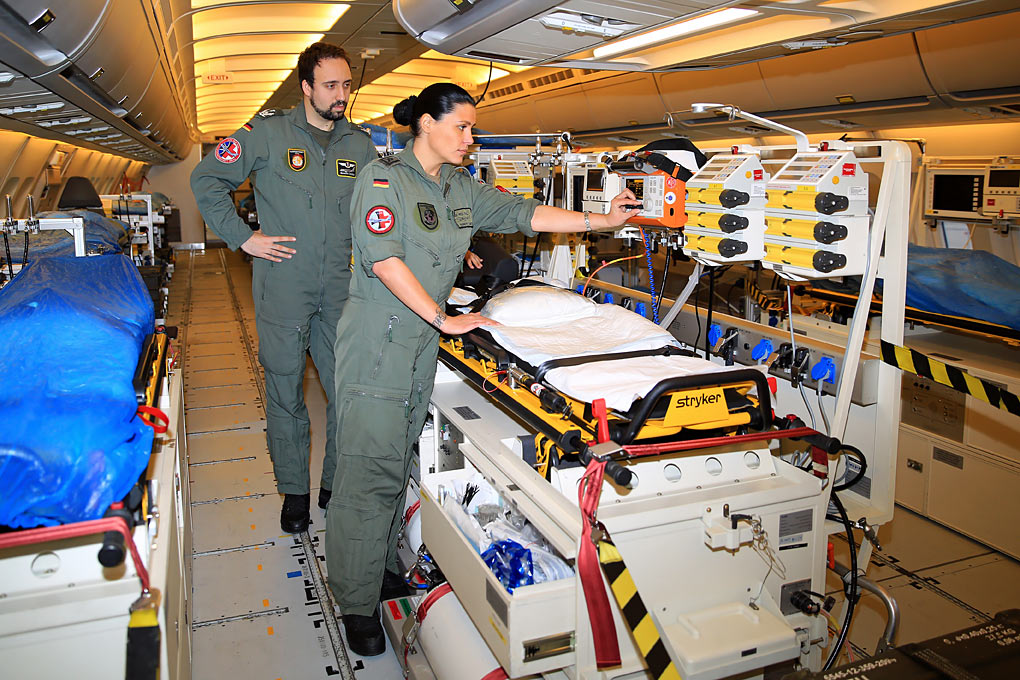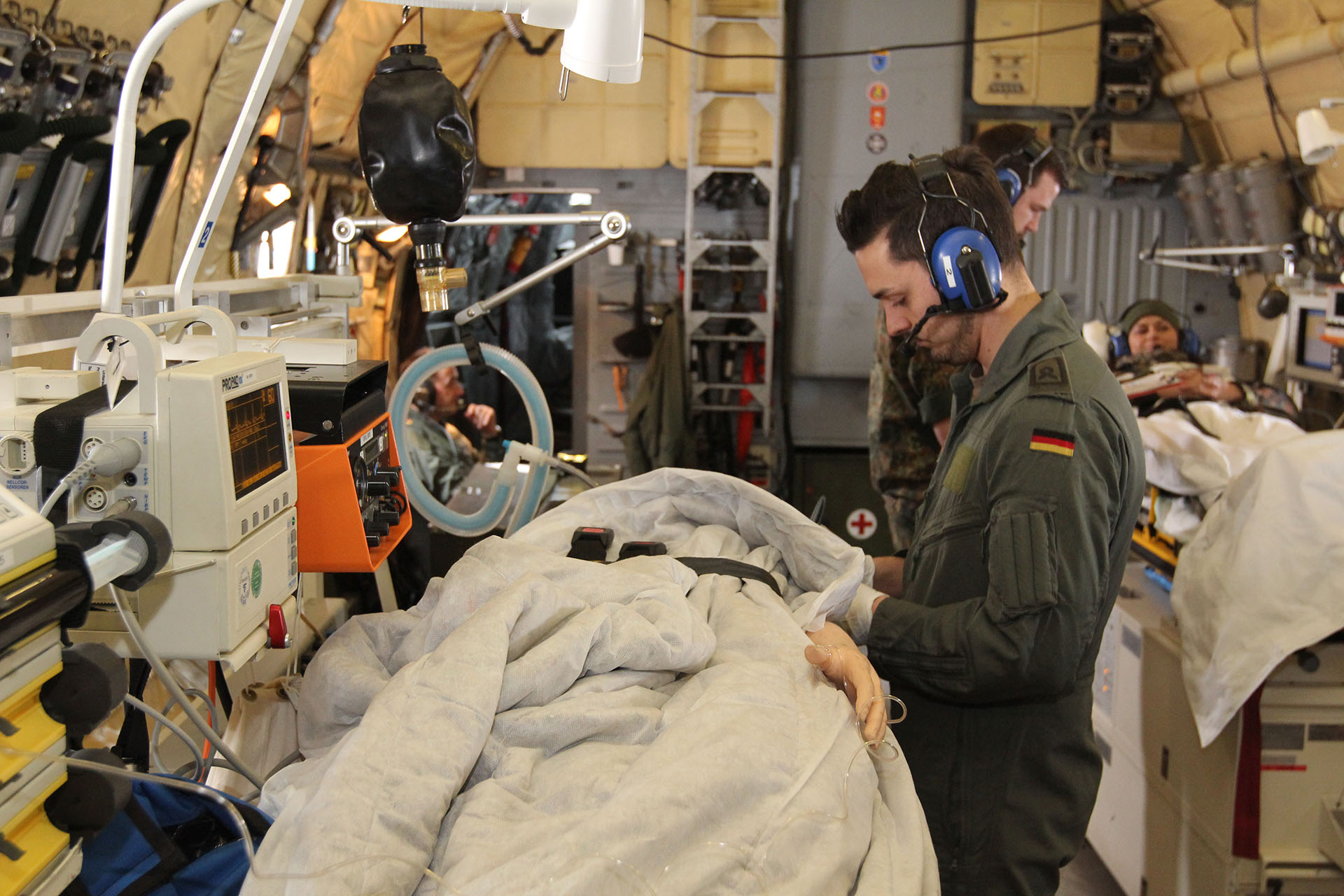 Click the picture to enlarge
Example:
A Dutch and a German soldier were wounded in Gao (Mali). The initial treatment was done in a French field hospital in Gao.
France then organised a tactical aeromedical evacuation with a French CN235 to transport the two patients to Niamey (Niger).
In parallel, EATC received the request from the Dutch and German authorities to coordinate an aeromedical evacuation back home. A German A310 was available and, on EATC request, took off within hours to Niamey. The medical team consisted of Dutch and German medical personnel.
Thanks to an accurate timing of this complex mission and perfect coordination between EATC and all partners, the patients were handed over in a tail-to-tail swop directly from the French CN235 to the German A310.
EATC coordinated the flight back to Eindhoven and Cologne. The first stop was in Eindhoven, where the Dutch authorities had organised transportation by road to the military hospital for the seriously injured Dutch patient. The A310 then transported the lightly injured German patient to Cologne. There he was transported by a German ambulance to the military hospital.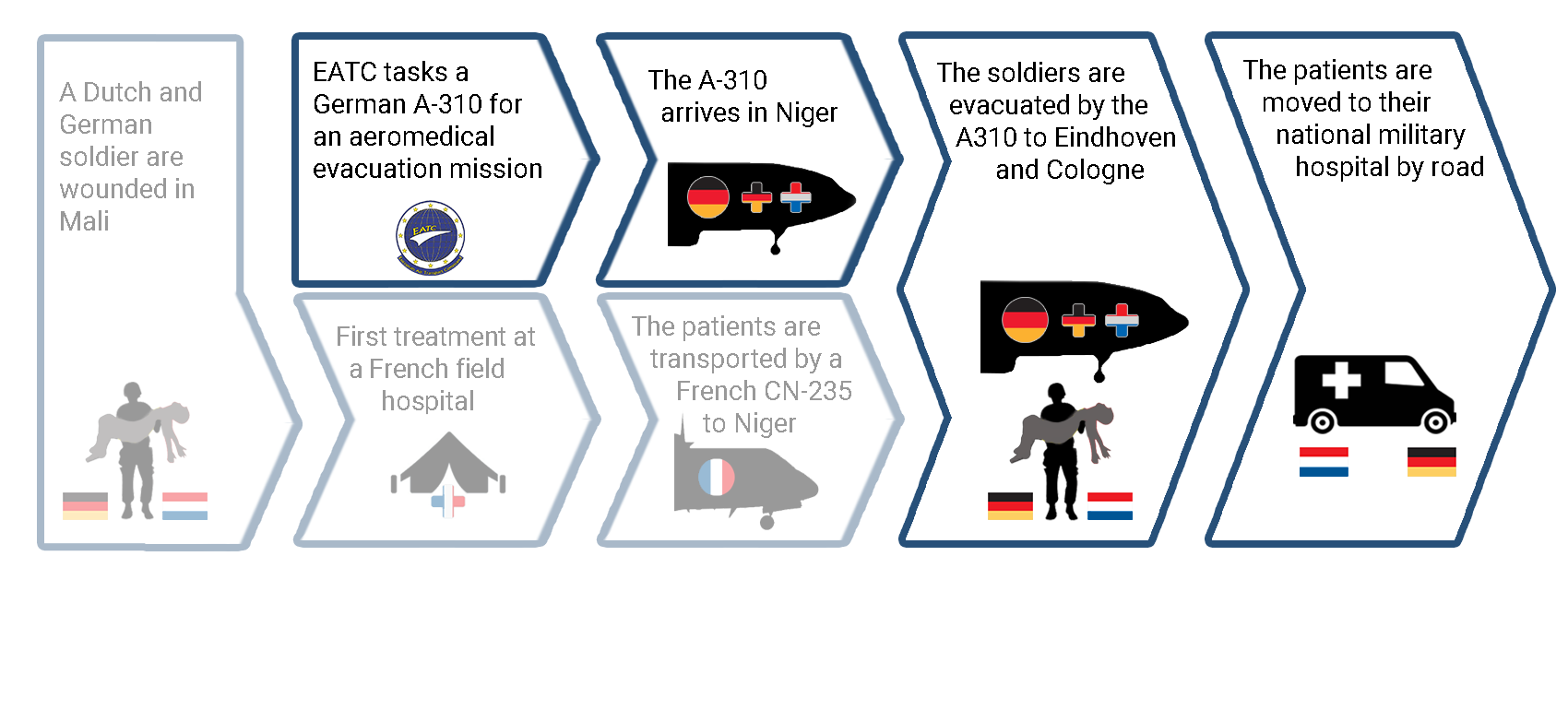 Click the picture to enlarge