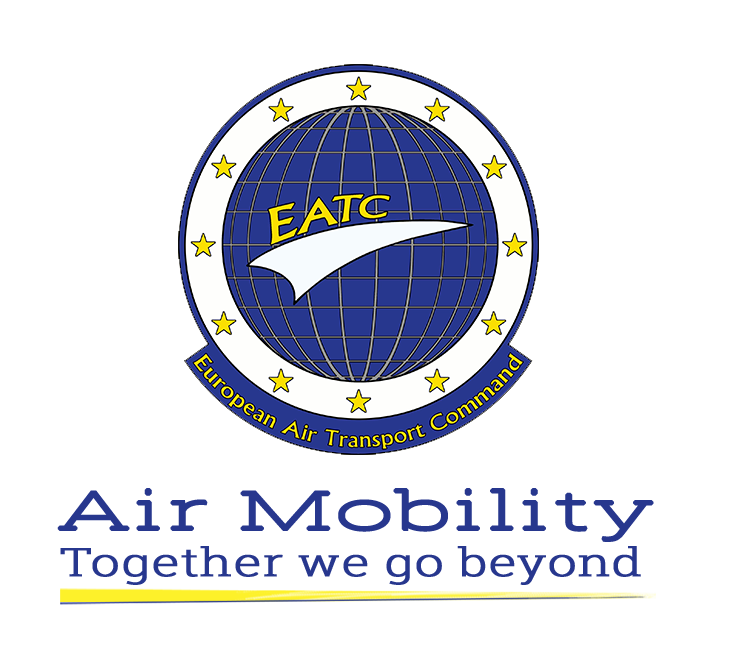 EATC's new tagline clearly phrases our essence:
we are an integrated multinational team committed, with its member nations, to deliver the best possible support today and to shape air mobility's future. Air mobility is what we do on a daily basis while meeting any challenge to secure the future.
AIR MOBILITY...

... because we are a unique organisation with a recognised experience in "air mobility", which clearly expresses a broader view then just "air transport". In fact, EATC operates cargo and passengers transport, air dropping, parachute dropping, AAR and aeromedical evacuation. In these domains, we also harmonise processes, standardise procedures and facilitate interoperability. We pool and share air transport solutions for the extensive domain of air mobility.

TOGETHER…


… as an integrated and multinational team of 200 experts;

… with our seven member nations who can fully rely on us;

… with combined partnerships to shape air mobility worldwide.



WE GO BEYOND...

... to executing missions and striving to harmonise the use of capabilities. EATC's value lies in the essential commitment to meet and adapt to each member nation's individual national needs, including any new requirements, and to constantly challenge ourselves in order to shape the air mobility's future.
We look beyond the daily business and work on smarter solutions to pool and share.


VISIONARY STATEMENT
EATC is a reliable partner known for integration, innovation and effectiveness. We provide to our member nations effective and efficient air transport, air-to-air refuelling and aeromedical evacuation missions setting the benchmark in Europe. Key to the effective operation of EATC's fleet is the integration of the operational responsibilities and the functional harmonization and standardization of regulations. The latter assures interoperable employment, maintenance and multinational training of the air transport crews and assets of our nations. As a centre of expertise for air transport, air-to-air refuelling and aeromedical evacuations, we deliver, through competence and commitment, high-quality service and products, enabling participating nations to fully rely on EATC and relinquish costly air transport solutions.
MISSION
The European Air Transport Command enhances the combined operational capabilities of member nations and improves the effectiveness and efficiency in conducting air transport, air-to-air refuelling and aeromedical evacuation missions. This multinational headquarters integrates all transferred national responsibilities and resources to ensure efficient operational control and to increase interoperability.
INTEGRATED
Together we are a multinational community working to fulfil our mission. Our team spirit determines the strength of our organisation and the results of our common efforts.



INNOVATIVE
We are pioneers in the world of Pooling and Sharing capabilities, evolving into a centre of expertise. Our willingness to seek new ways and to apply best practices determine the level of our performance.
EFFECTIVE
We prove that collective solutions are most effective. Our professional approach and personal commitment to the mission determine our effectiveness. We want to be as effective as needed and as efficient as possible.