Everything's right


Specialist on Airbus military aircraft

Master Sergeant Peer Kirsten works as an aircraft mechanic in the maintenance and repair section of the Airbus A310 and A310 MRTT (Multi-Role-Transport-Tanker) at the Special Air Mission Wing in Cologne-Wahn, Germany. He ensures that the aircraft are ready to fly whenever needed.
Kirsten repairs, screws, installs and documents everything required in connection with the Airbus. And there is plenty of work to do: An air plane is made of thousands of individual parts - and the interaction of the components has to be checked and secured constantly. This work requires specialists - and Kirsten is one of them.

Quality is key
Maintenance checks with predefined intervals for every aircraft and additional inspections are within the scope of activities of Master Sergeant Kirsten.
Right now he works his way through a checklist from one item to another in order to complete all the required work on the Airbus properly. Therewith he has to work step by step and very carefully.
Four and a half years of training lay behind Kirsten. Enormous steps had to be taken by him in order to acquire the required skills for many working areas of an Airbus. Not only the broadness, but also the knowledge in depth require the work of a real expert – profession of an aircraft technician. The different kits, designed only for military purposes, e.g. for AeroMedEvac- or AAR missions of the Airbus A310 MRTT, make his work even more demanding but also more interesting.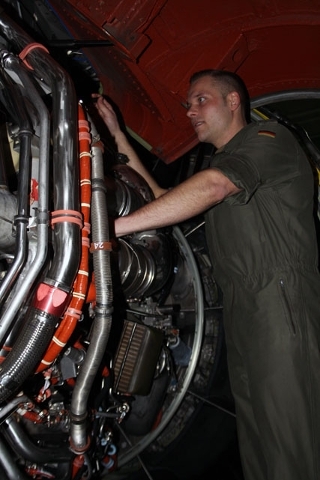 Working in teams

MSgt Kirsten takes full responsibility for his actions in maintenance and repair. His job requires a lot of concentration, dexterity and ability to abstract. Even the smallest mistake could have serious consequences.
And so do his colleagues: As the wing operates around the clock, all the technical work is organized and executed in three shifts , including weekends and holidays. There are also standby periods for short-notice operations, especially in order to make use of the AeroMedEvac equipped Airbus.
Nevertheless, there are also fixed appointments on his agenda. One important item is the morning meeting with the entire staff of the 1st Technical squadron. Here are the daily tasks distributed to the available personnel for each asset. And sometimes MSgt Kirsten has to go abroad as well. Among his duties he could - and sometimes does - fly on the A310 as a board technician: All around the world.

Always have an eye on the final goal

The original idea of MSgt Kirsten - who had been working as an industrial mechanic in his third year of apprenticeship - was to become a volunteer at the German forces right from the start.
After his basic military service as a radio operator with the German Army he got a second assignment in an Army maintenance component. There he was able to use his civilian mechanic skills on different army vehicles – and by the time also got some special licenses including the allowance to work on the howitzer 2000(!).
After his conscript time he went immediately back to a recruiting officer, who advised him to join now the Air Force as a resetter. This did not need to be told twice to Mr. Kirsten, because he lived in a small city in the east of Cologne - with the Special Air Mission Wing Cologne-Wahn not only spatially, but also professionally in his near and mind. With the following test passed at the recruitment center he was then set resettled as a Staff Sergeant - into the Air Force and also at Cologne-Wahn he was always aiming at. Although at those times his career was only to be foreseen for several years on a time contract basis, these days Master Sergeant Peer Kirsten works as a professional soldier and passed further licenses as well, which offers him the opportunity to work and check on other flying units of the German Air Force as well: So far has done everything right in his career.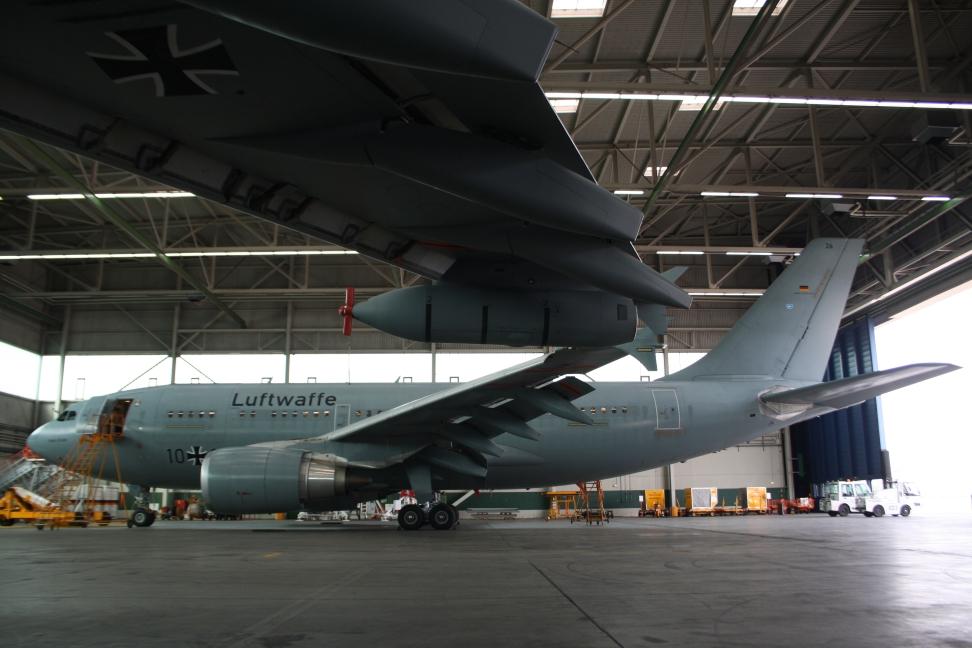 Words and pictures: Norbert Thomas
Read more about the Special Air Mission Wing MoD here
Find more portraits of people working within the EATC assigned fleet here