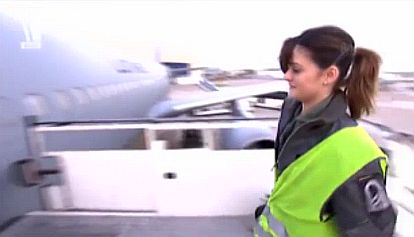 The German Air Force Special Air Mission Wing MoD runs different aircraft for AT (air transport), AAR (air-to-air refuelling), AE (Aeromedical Evacuation) and finally VIP-Transport.
Five Airbus A310 PAX and MRTT (Multirole Transport Tanker) fly on EATC assets - e.g. twice a week from Cologne to Termez/Usbekistan in order to deploy and redeploy soldiers of different nations to ISAF and back.
Along the biography of three soldiers, the first video describes how precise the wing organizes its misions on EATC assets (see screencapture above).
The second movie focuses on the work of two flight attendants as well as of the whole aircraft crew along a real mission to Termez and back. Both videos are courtesy of the German Armed Forces media and streamed in German language.
Find more about the Special Air Mission Wing MoD here.
Norbert Thomas
(Words and pictures)