The Aeromedical Evacuation Control Center (AECC) - medical branch within the Operational Division of the European Air Transport Command at the Eindhoven Air Base (Netherlands) - arranged medical help for a French Foreign Legion paratrooper, who had injured himself while landing during the Colibri exercise in the Oberlausitz region, Eastern Germany. Due to unavailability of a national French asset, the national French Patient Evacuation Coordination Center requested the help of the AECC.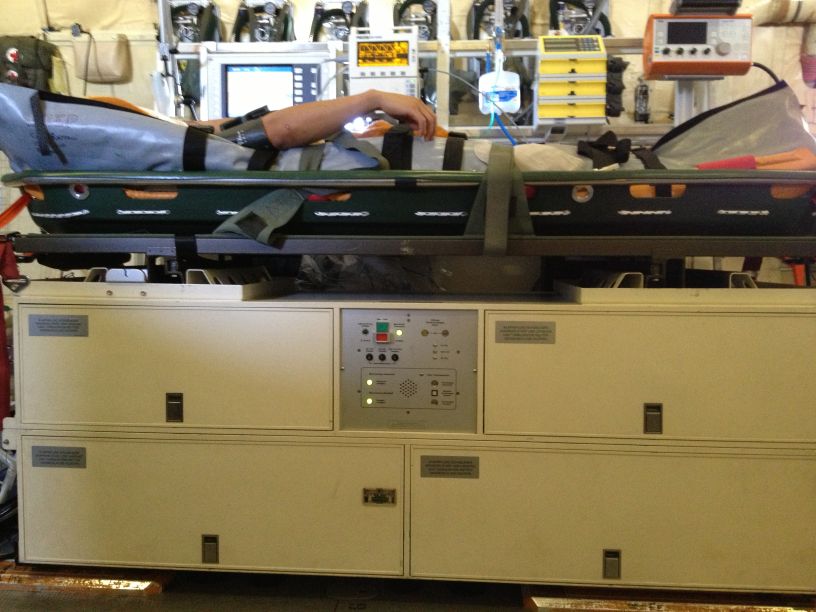 In response to the request, an EATC assigned German Transall - equipped with an Intensive Care Unit (ICU), a German medical crew team, reinforced with a French flight nurse - took over the evacuation flight with the patient from Cottbus (near to the Polish border) to Creil (northern France). According to Lieutenant Colonel Dr. Baumann, medical director on this mission, the French flight nurse was well appreciated for "her professional medical skills and for her team spirit." As a conclusion Dr. Baumann added that "this kind of cooperation should be reinforced !"
The AECC
For the transport and evacuation of military patients via aircraft, a team of flight surgeons is permanently available at the EATC. Knowing the specific requirements for aeromedical transports they assess and coordinate a patient's validation for a flight with the requesting nation. Together with the other branches EATC doctors then match the medical requirements with the airlift capabilities and task the appropriate aircraft – to destinations world-wide.
Besides the operational business they also work on the development of standardized procedures in the aeromedic transportation domain in order to facilitate the movement for those who rely on a quick and simple transfer to their home country.
Words: Dr. Bruno Renard, EATC PIO