From october 10th to october 14th, the last meeting of the "Patrouille de France" for this year took place. For the occasion, the PAF was supported by a C160 Transall of the German Airforce. The dispatching of this asset was done by the European air transport command (EATC).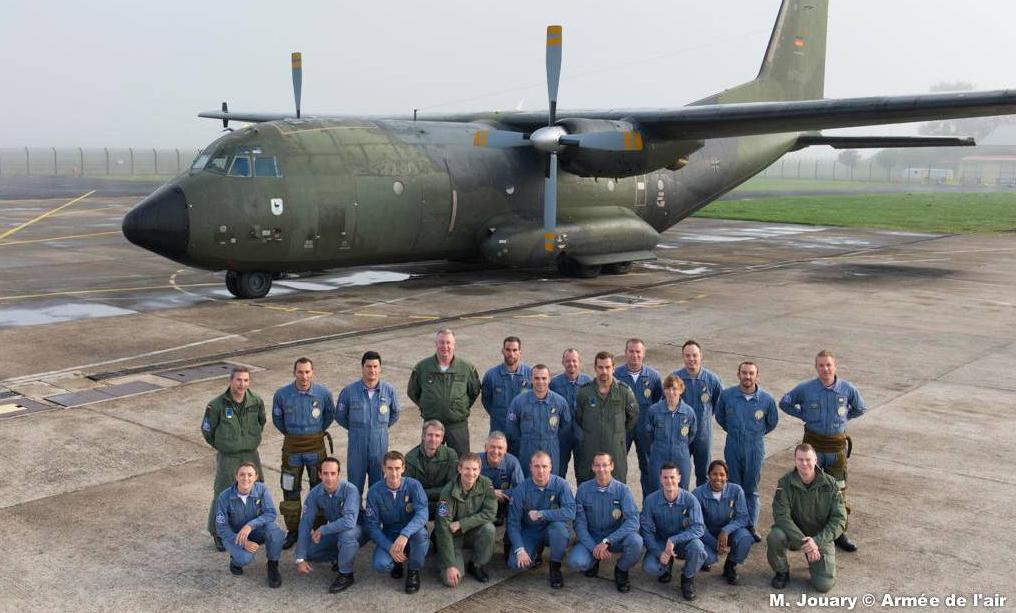 Group picture in front of the Transall
The EATC has the operational command over 130 different airplanes and so manages the largest fleet of military aircraft in central Europe. The EATC supervises and organizes the air transport missions for five nations (France, Germany, The Netherlands, Belgium and Luxembourg).
A Transall C160 from the "German Luftwaffe" and an Alphajet from the "Patrouille de France" on the same airfield

Coming from the squadron LTG 61 based at Landsberg-Penzing, the C160 arrived at Salon de Provence on Thursday, October 10th with, onboard a dozen mechanics and 10 tons of material. After a short stop at Hyères and at Clermont-Ferrand, the German plane followed the PAF and the "Equipe de voltige de l'Armée de l'air (EVAA)" to Gergovie to perform "Cervolix" and to Sainte-Maxime to perform "Free Flight World Masters".
French and German soldier unloading together the German C160

It has to be underlined that this support from the German Airforce to the PAF, the first one supervised by the EATC, happened just at the right time to celebrate the 50th anniversary of the defense cooperation treaty between France and Germany. This document was signed at the Élysée on January 22nd in 1963.
Text: ADC Mireille Léger – Armée de l'air
Pictures : M. Jouary – Armée de l'air