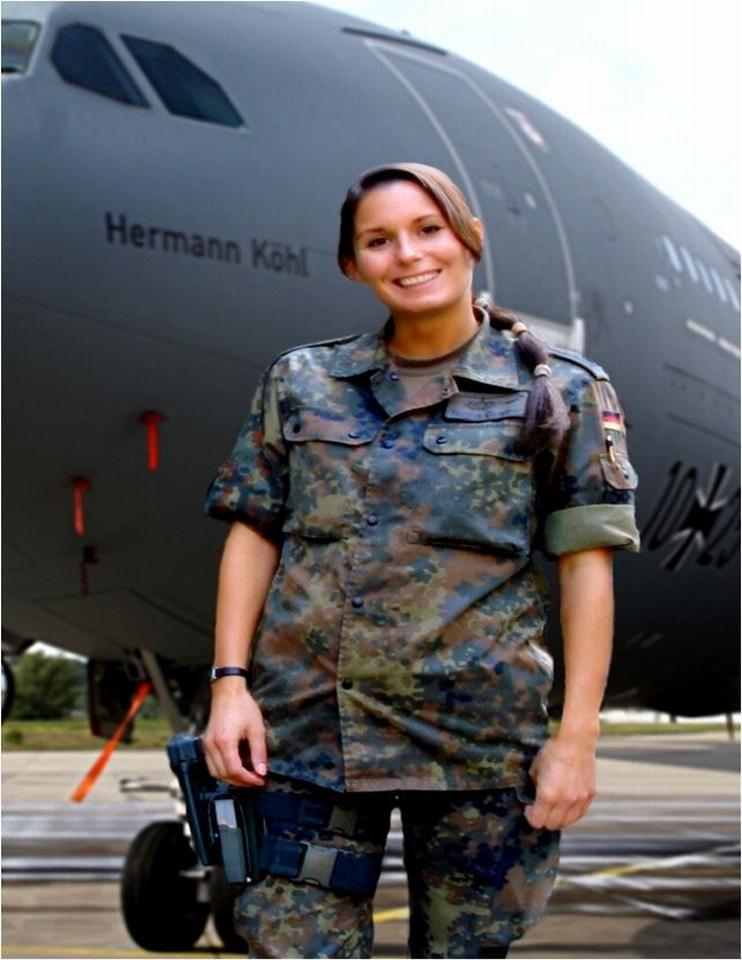 The responsible work of a flight dispatcher
Every international flight, whether civilian or military, requires extensive preparations to make sure that the plane reaches its destination without any problems. In the German Air Force, these preparations are carried out by the military personnel of the International Flight Information Service, which is part of the Cologne-based Special Air Mission Wing MoD (Ministry of Defence).

To give you an idea of the service provided by the above-mentioned unit, EATC would like to introduce you to one of its members and her work:
Regina G. started her professional career in Cologne's shopping district, the High Street near the famous cathedral, where she worked as a retail saleswoman at the stationery shop of a big department store. At the time, she never thought she would ever get the chance to fly to any of the countries pictured on the postcards which were neatly arranged on the shelves behind her counter.
But things change happens: Her next job gave her the opportunity to travel around the globe – as a member of the Air Force's International Flight Information Service.

International aeronautical service
Although military airfields have their own stock of aeronautical information documents, they cannot afford a complete library, especially at a time of worldwide missions. In Germany, all - abroad acting - flying units rely on the data provided by the International Flight Information Service, whose "customers" even include civilian airlines. The geographically closest client is the Special Air Mission Wing MoD, which - in its capacity as the German Air Force's central provider of airlift services - carries not only goods but also military personnel, members of federal and provincial authorities, NATO partners as well as political VIPs. The International Flight Information Service works 24 hours a day, seven days a week and on average gives 54 briefings per day.
"Expect the unexpected" or "Everything is subject to requirements"
Regina's career in the military did not start off too well: During her first assignment at the German Ministry of Defense, the now 28-year-old Technical Sergeant lost her position as aeronautical information provider because the Ministry was stripped of its helicopter in the wake of a reform of the German Armed Forces.
Although changes like that always bring about a certain amount of uncertainty in the short term, they do not necessarily result in disadvantages. As for Regina, the change of job even proved to be an improvement: Her follow-on assignment at the International Flight Information Service not only brought her back to the city where she lived (i.e. Cologne) but also took her to the unit where most German soldiers and government officials set off for duty missions abroad: the Special Air Mission Wing MoD.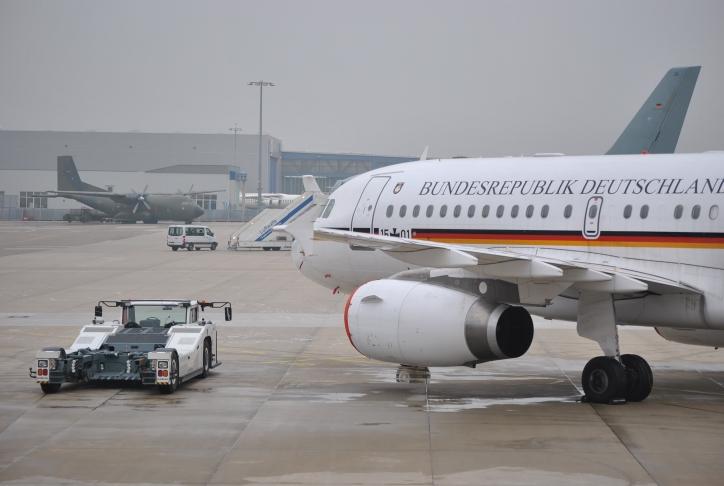 Now occupying the post of a systems operator aboard a VIP Airbus, she flies to Djibouti, the USA and lots of other destinations. One of her most recent trips was a flight to India with a delegation of the German Ministry of Foreign Affairs. Still, the job of aeronautical information provider is not just sunshine and roses: Owing to the fact that specialists of her kind are in short supply, Regina is more likely to be deployed abroad than the average German soldier. So far, she has done two tours of duty in Kosovo within the framework of the KFOR mission. Regina does not mind being far away from home. On the contrary, she regards deployments abroad both as an enriching experience and as an integral part of the job of ensuring flight safety by providing essential aeronautical information.

The customer is always right
The International Flight Information Service is a full service provider furnishing information by telephone, procuring visas, making travel arrangements and issuing weather reports. The service's prepackaged black pilot bags are always in great demand. Outstanding service is a matter of high importance because the service not only furnishes information to aircrews on an almost daily basis but also takes care of VIP passengers such as the German chancellor or president.
Providing aeronautical information is not like acting as a travel agency but assisting pilots in their flight preparations.
Where is that place called Vanuatu?
No matter what data you require, just ask the International Flight Information Service! The wall behind Regina's desk is covered with dozens of long shelves that are stacked with countless documents, CDs and maps offering information on more than 120 countries, landscapes and even individual islands. These documents, which are called aviation manuals, have to be continuously checked and kept up to date in case an unexpected flight, e.g. for humanitarian purposes in the aftermath of a natural disaster, needs to be prepared all of a sudden.
In addition, the International Flight Information Service usually knows in advance what politician is flying abroad when. However, the composition of the accompanying delegation or the destination may change overnight. As the team around Regina is responsible for making sure that the maps, passports and visas for the trip abroad are complete, country-specific information has to be available at all times, no matter if the flight goes to Trinidad, Mozambique or Sulawesi.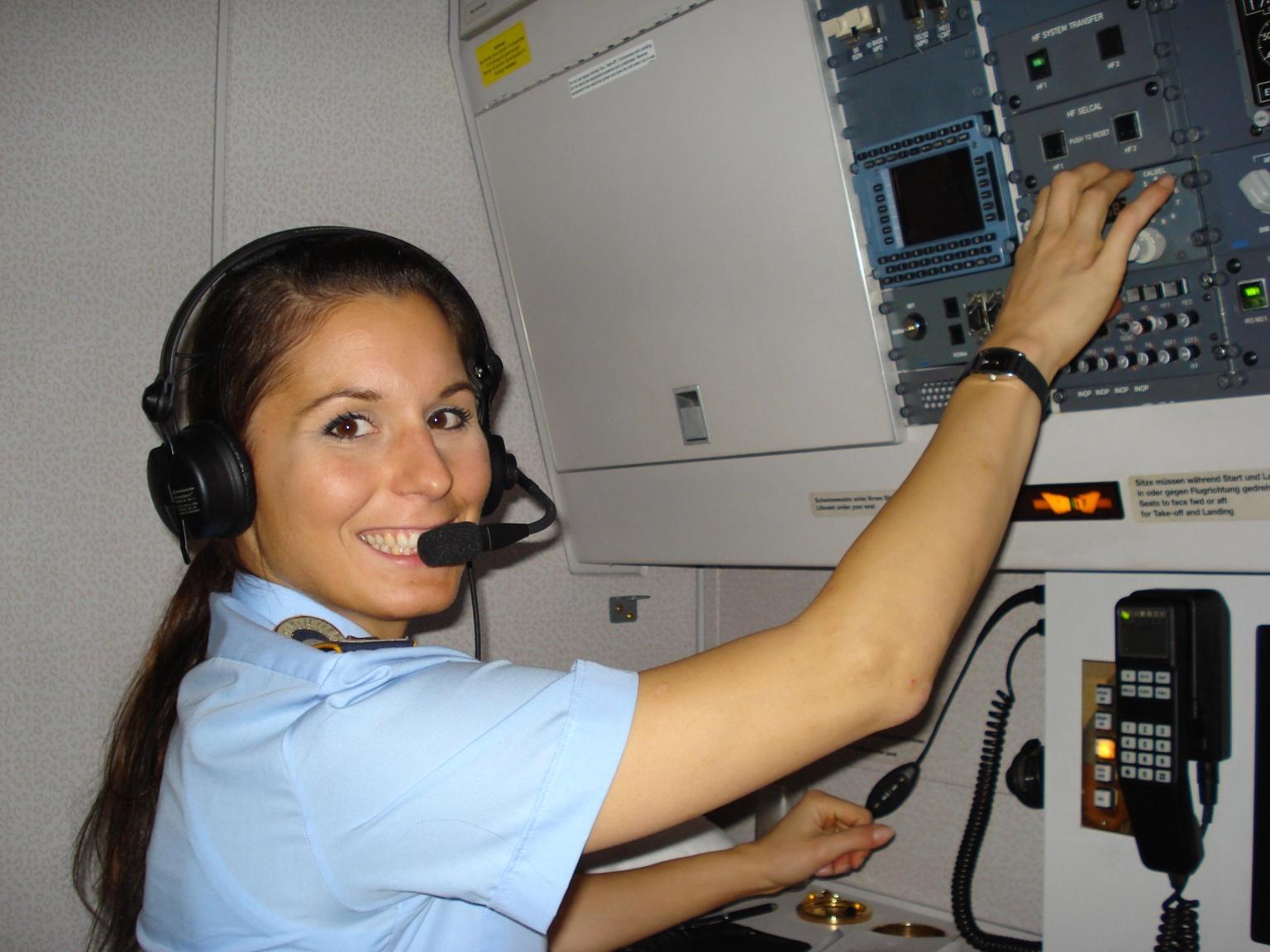 Working at an altitude of 30.000 feet
According to her job description, Regina's task is to constantly provide excellent service at an altitude of 30.000 feet. This responsible job requires a lot of flexibility so that appropriate solutions can be found even in the most unusual situations. A good physical condition to cope with temporary climatic changes is also important.
As was said above, Regina's main job on board is to make sure that the passengers are comfortable. In her capacity as "system operator", a mix of data processor, communication assistant and, as Regina says, "dogsbody", she is, among other things, responsible for the satellite system of the military Airbus A310 or A340.
In her current job, Regina benefits from the skills she learnt about ten years ago as an apprentice: She uses communication systems which require fluent English, procures new weather data or enters flight-related information into a database that will draw the attention of the tower personnel to additional traffic. In other words: Business meets uniform.

Where duty meets passion
Regina is a passionate diver and can use her professional know-how for her second hobby, which is traveling. Her trips have taken her, among other destinations, to Brazil, Barbados and the Red Sea, a divers' paradise where she had the opportunity to take a rest from her stressful job. And if that was not enough … Regina has also been to Vietnam, the Maldives and Indonesia … and Prague, and Bratislava. This was the point when I stopped taking notes and asked Regina what she was doing on the coming weekend when she would not be abroad.

The answer I got did not really surprise me: She will be riding down the Rhine valley and touring the hilly Eifel area in the saddle of her Suzuki 1200.
Find more jobportraits of people within the air transport world here.
Words: Norbert Thomas
Pictures: Norbert Thomas, Regina G.