Today, on December 4th 2014, the leading Italian General in his function of the Italian Air Force, General Pasquale Preziosa signed the respective Note of Participation (NoP), making Italy immediately a member state of the European Air Transport Command. After Luxembourg and Spain, Italy is the third European nation to join the founding nations of the EATC. Its relatively modern AT- fleet consists of 37 tactical and strategic assets. Italy will transfer the authority to the EATC of all Boeing KC 767A, seven Alenia C-27 J Spartan as well as the whole Lockheed C-130 J Hercules fleet.


Nowadays, the Boeing KC-767A is one of the most modern Air-to-Air Refuelling (AAR) aircraft in service, can supply fuel both by hose and drogue- as well as by boom-system . Moreover, the KC-767A is able to be refueled by other boom equipped tankers in order to extend its operational range. All four aircraft were taken into service in 2011. As strategic transport aircraft finally, the KC-767A can be set up in different loading configurations. All four aircraft are stationed at Pratica di Mare near Rome.

The C-130J is one of the newest versions of the Hercules family - also named "Super Hercules". Italy runs 21 of these tactical AT aircraft, partly equipped to perform AAR-missions (type KC 130J). Though externally similar to the classic Hercules in general appearance, the J-model features considerably updated technology: Among others - differences include new turboprops (six propeller blades), digital avionics, head-up displays (HUDs) for each pilot and less crew requirements.
Finally the EATC assigned fleet will also use the C-27 J Spartan, a derivative of the of the former G.222 with the engines and systems of the C-130J Hercules. The small tactical aircraft externally presents itself with a receiver boom, thus allowing AAR to extend range and role. Both tactical aircraft types are stationed at the military part of the International Pisa Airport.

With the Italian contribution, from 2016 onwards, the EATC will have gained Operational Control over more than 220 Military Air Transport aircraft, which is about 75% of the European military Air Transport fleet. Participating Nations will have resources to roughly 20 different aircraft types, that are all equipped for optimum effective use. With the joining of Italy the EATC enlarges its area of interest whilst benefiting from the excellent capabilities (AT and AAR) the Italian Air Force will provide. Equally important, are the human resources Italy will bring in which will enable the EATC to continue to grow and enhance its potential to the benefit of all EATC member states.
Words: Norbert Thomas
Pictures: Norbert Thomas, Italian Air Force, Martin Gesenhoff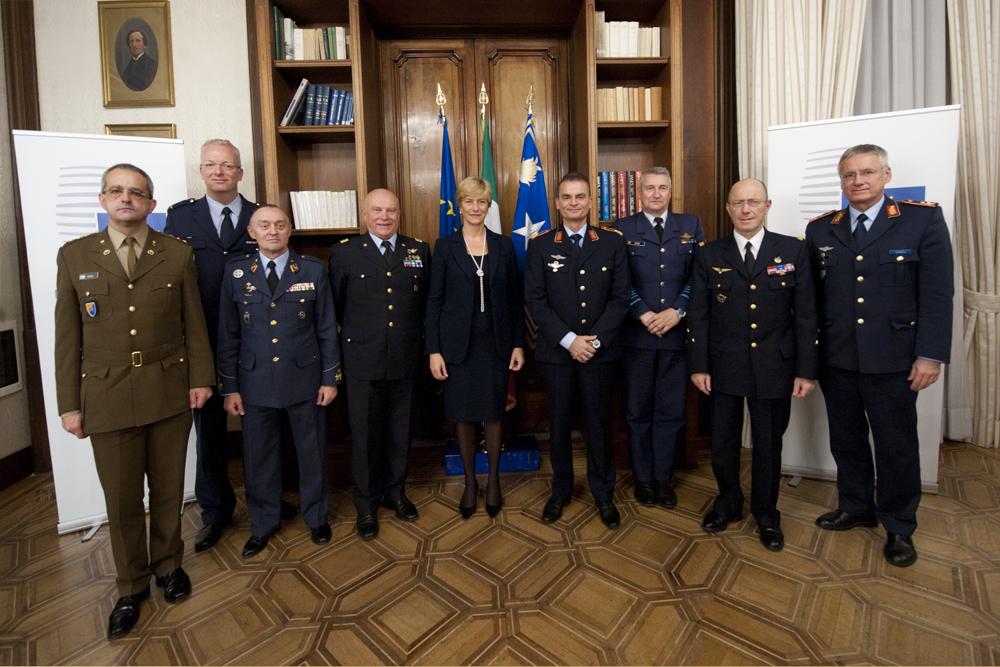 The Italian Minister of Defence H.E. Roberta Pinotti, COM EATC MG Christian Badia and the
representatives of the EATC Participating Nationsin Rome
Gallery