In the framework of todays MATraC meeting at EATC premises, Italy was formally invited to join as next member state. The Multinational Air Transport Committee represents all Air Chiefs of the EATC Participating Nations (PN), meeting twice a year at Eindhoven Air Base.
In the limelight of this highly respected circle, Dutch Air Chief and Chairman of the MATraC, Lieutenant General Alexander Schnitger, handed over the Letter of Invitation - signed by every PN representative - to Italian Major General Roberto Comelli, Italian Air Mobility and Special Forces Commander.
As final step of the accession process Italy will confirm the invitation to join by signing a Note of Participation (NoP). The respective signature of EATC member states on the required legal document will seal Italy's accession to the EATC. The NoP is planned to be signed the 4th December in Rome during a special ceremony. With the signature given, Italy is immediately part of the EATC.
This is an actualized version (13.11.2014, 17.30)
Words: Norbert Thomas
Pictures: Pascal Ballinger, Norbert Thomas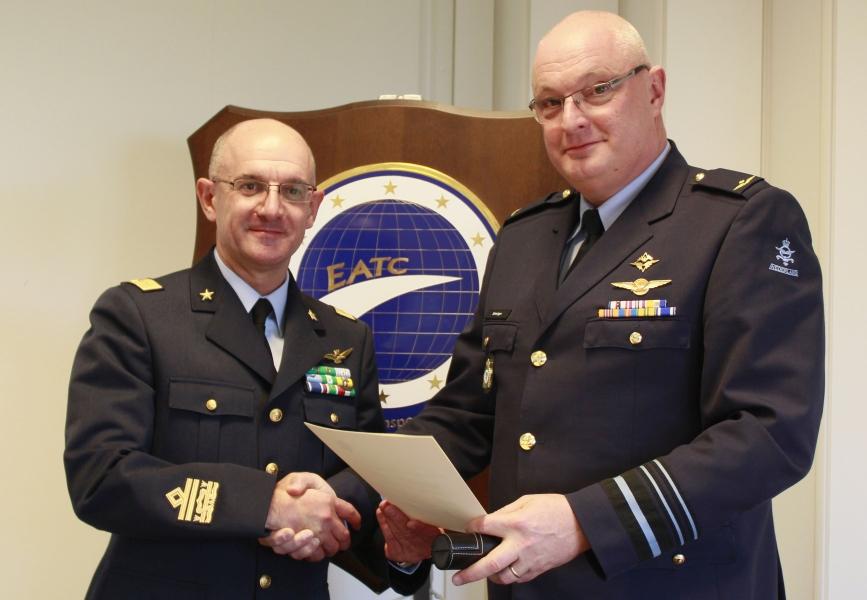 Handshake: Italian Major General Roberto Comelli (Air Mobility and Special Forces Commander) and Dutch Air Chief and Chairman of the MATraC, Lieutenant General Alexander Schnitger