First jumps performed from an A400M

On 16 July 2015, 91 French paratroopers jumped from the back ramp of an A400M. This was the first airdrop of the kind for the armed forces, who are testing both the tactical and military capabilities of the Atlas.
The paratroopers jumped from MSN19, the seventh A400M received in June by the French Air Force, and whose configuration includes an air drop capacity for paratroopers from the back ramp of the aircraft. After several experimentation flights to validate the Airbus procedures and their adaptations to the armed forces, the A400M took off from Orléans Air Base and climbed to 4.000 meters altitude to perform the air drop mission.
The next flights will experiment air drop of paratroopers from the "para doors" (lateral doors) of the aircraft.

Thanks to its technical capabilities, the A400M allow nations to conduct a variety of missions and operations, be they tactical or strategic, to external theatres.


Read more about this mission here (original article in French)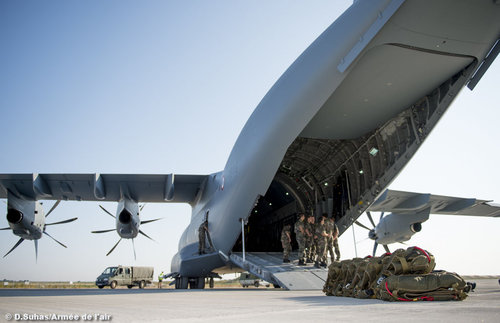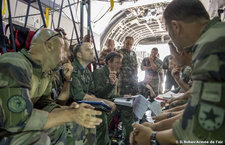 Rights/Pictures: D. Suhas/Armée de l'air (Sirpa Air)