AECC accomplished more x-national missions in 2013
The EATC's Aeromedical Evacuation Center (AECC) is a branch within the EATC's Operational Division that plans and conducts – among others – Aeromedical Evacuation (AE) missions: from the spot and world-wide acting. AECC consists of several experienced flight surgeons and assistants, using different EATC assigned aircraft as well as several national aircraft to provide the best service for their patients.
Moreover, AECC also plans and conducts cross-national training in AE-matters, teaching medical personnel to become more flexible and secure with the different medical equipments and health procedures within different aircrafts.

For Strategic AE the medical personal has to be trained and certified on aircraft of different nations to comply with national and multinational regulations. With the introduction of new courses for nationally trained and certified AE personnel the opportunity for cross-national certification was established.
While the percentage of cross-national Strategic AE could be improved in ongoing missions, new operational areas with single Strategic AE hubs (e.g. Bamako) for the partner nations opened the opportunity for significant enhancements. The increased number of cross-national flights was obtained by mainly utilizing already preplanned routine flights.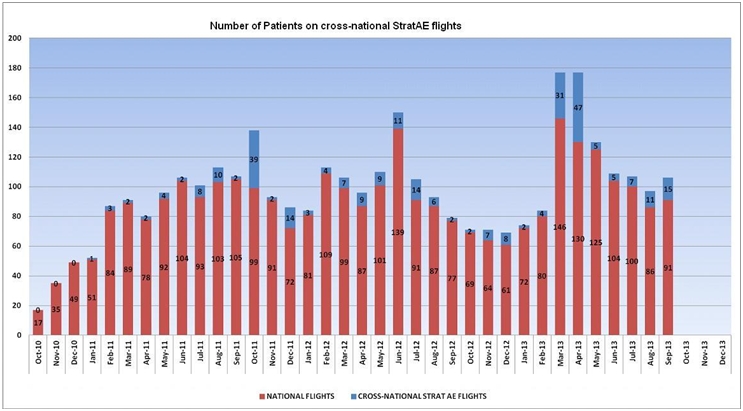 The following two cross-national Strategic AE missions were performed with dedicated aircraft in full AE configuration.

1. On 20 November 2013 a Belgian Embraer took off from Melsbroek with a Belgian medical team to pick up a German patient in Izmir. The patient was brought to the military hospital in Hamburg for urgent surgery. The Embraer landed in Hamburg and returned to Melsbroek the same day.
The Embraer is the ideal aircraft for the given distance and care to a low number of patients.

2. On 22 November 2013 the German Airbus A-310 MRTT in full AE configuration took off from Cologne for the flight to Bamako/Mali. The German medical team was augmented with a French Flight Nurse, who travelled to Cologne one day earlier. The aircraft landed in Bamako to pick up one German- and nine French patients. The Airbus returned directly the same day.

Both recently performed missions demonstrate the gain in flexibility and efficiency achieved by this cross-national cooperation. Besides, mutual trust and confidence is increased in the involved medical personnel and responsible military commands.
During the past two years the number of cross-national missions could be increased. The above graph gives an overview, depicting the monthly patient numbers transported nationally and cross-nationally.

Find the extended article in our competence-chapter here

Words: AECC, Norbert Thomas
Picture: Tony Dahmen
Graph: AECC