On 14 August 2012 a life threatening medical emergency occurred to one of the crew members of the German frigate "Bremen", currently operating in the Indian Ocean for the European ATALANTA mission.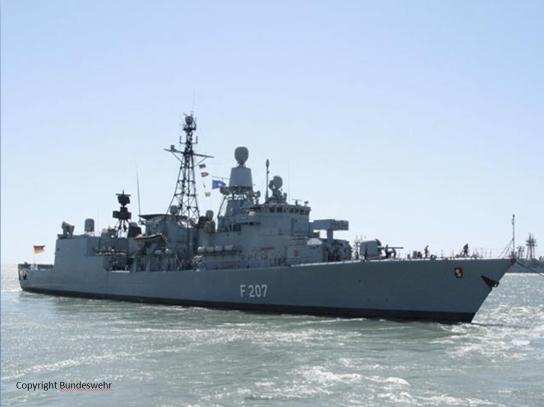 By use of a helicopter "Seaking MK 42C" from the Indian carrier "INS Viraat", the seriously ill soldier was transferred to the Indian Navy Hospital at Mumbai, where he was brought to an emergency surgery.

Meanwhile the EATC had requested an Airbus A310 MRTT MedEvac-plane from Cologne-Wahn, which can be suited with a special air evacuation kit. With flight surgeons on board and fully equipped with patient transport units the machine with the callsign 10+27 of the German Special Mission Air Transport Wing arrived in Mumbai on Saturday, the 18th of August at about 14.30 pm to take up the meanwhile stabilized patient.
The plane landed at 1.00 am the following night at Stuttgart Airport, from where the soldier was being transported to the central military hospital of Ulm.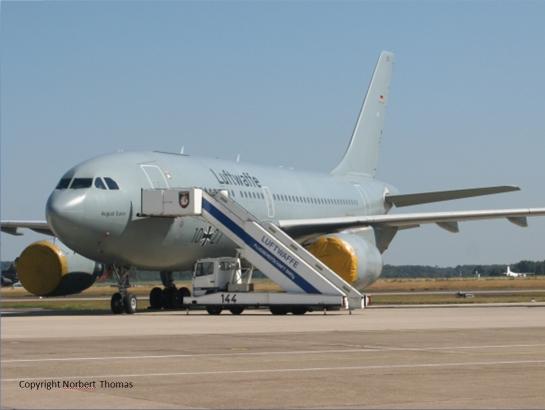 By default the Airbus A310 MRTT is used as a multi-role transport plane, which in the MedEvac configuration holds six intensive care places as patient transport unit (PTE) - in addition to extensive, other medical equipment to care for patients.
The reach of the A310 MRTT is up to 10,500 km at a cruising speed of around 860 km / h.
The plane and its crew is held in a 24-hour standby.
Text: Norbert Thomas