Successfully flying strategic missions all over the world

Two weeks ago, on 3rd December 2014, a French A400M aircraft took off from Orléans air base to N'Djamena (Chad) and Bangui (Central African Republic – CAR/RCA in French) in the framework of operation Barkhane conducted in the Sahel-Saharan strip and operation Sangaris in Central African Republic. On its way to African theatres, the aircraft made a first stopover at Verona airport (Italy) in order to take on board 5,5 tons of cargo and 25 Italian soldiers engaged in the European mission EUFOR RCA.

The A400M fleet of Air Transport Squadron 1/61 "Touraine" is currently in an initial logistics capabilities configuration and flies mainly logistics missions in operational theatres. During this mission around 50 passengers and 18 tons of cargo in total were transported, which represents a volume of more than 100 m³. The cargo load was very varied and included technical and medical equipment, as well as aeronautical equipment for the Rafale fighter aircraft stationed at N'Djamena and the helicopters engaged in operation Sangaris.
With its outstanding cargo capacities – a four-meter-wide cargo hold for a volume of 340 m³ – and high cruise speed over a long range – speed range 0,68M-0,72M and carrying 20 tons over 6 400km – the A400M outmatches the capabilities of current airlifters such as the C160 Transall, as it is able to carry nearly four times the payload in twice less time. These characteristics strongly optimize support to deployed military operating bases in theatre and enhance the EATC's overall tactical and strategic capabilities.

This mission is a good example of the EATC's ability to effectively optimize and perform missions for its members nations with pooled and shared assets. In one decade, it is foreseen that the EATC will plan, task and conduct missions with more than a hundred A400M aircraft over which it will have the operational control. Furthermore, the EATC is also the leading organization in the A400M employment.
The next EATC member nation in line to take delivery of its "Atlas" is Germany: the German Air Force is expected to receive its first A400M this month.
The A400M aircraft currently delivered to France, Turkey, the UK and soon Germany are all formally accepted by OCCAR-EA and the respective customer (FR, TR, UK, DE), being delivered on the basis of the "Batch 1" configuration.

Read more about the support mission to operations Barkhane and Sangaris here (original article in French)
Read more about the aircraft's different variants and the EATC's involvement in A400M matters here and here.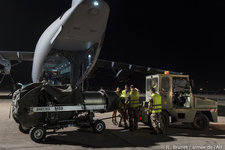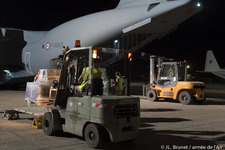 Pictures: Armée de l'Air - Etat-major des Armées