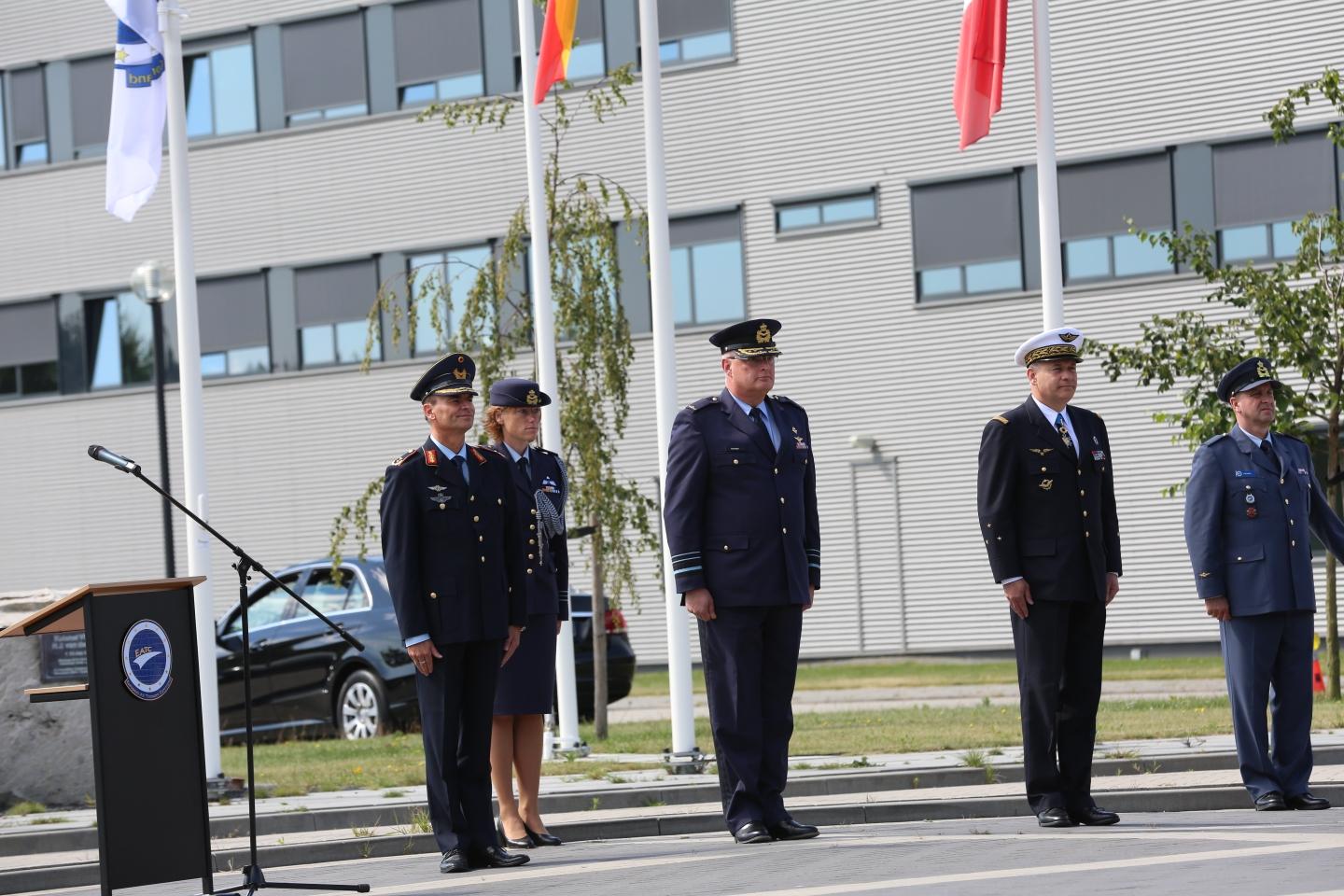 Successful steps of the European Air Transport Commands (EATC) have been done in the past: more will follow. The Change of Command ceremony today at Eindhoven Air Base featured the handover of EATC Command from French Major General Pascal Valentin to German Major General Christian Badia - taken place under the lead of the Dutch Air Force Commander, Lieutenant General Alexander Schnitger, Chairman of the Multinational Air Transport Committee (MATraC).

A serial of changes
Before taking over the command, General Badia was Head of Division Strategic Defence Planning & Concepts at the German MoD. General Valentin instead will now focus on his new assignment, leading the NATO school in Rome.
General Valentin looks back on two busy years with a lot of challenges to cope with: The A400M introduction, reaching Final Operational Capability last year, achieving the accession of Luxembourg and Spain, which at last was finalized on the same day he left the EATC. Few days before he could promulgate the first A400M flying under EATC operational control.
The same date, but not in the limelight of the ceremony, also the Chief of Staff's post is newly manned. German Brigadier General Jörg Lebert handed over to French Brigadier General Pascal Chiffoleau, former Commander of Air Mobility Brigade at Dijon AFB. Both positions either of Commander and Chief of Staff rotate as planned every two years between Germany and France.


More important decisions had been taken within the MATraC meeting in the morning, representing all EATC Participating Nations Air Chiefs: The lead of this highest circle in European military AT- matters went over from Belgian Lieutenant General Claude Van der Voorde to Dutch Lieutenant General Alexander Schnitger. For the next two years it is now his turn to monitor EATCs steps to reshape and improve the military AT-world within Europe. Although the Dutch Air Chief had a good start… facing only few hours before the accession of Spain to the EATC.

A rising giant
With the additional aircraft of Spain, intended to transfer authority latest by the end of the year, EATC will conduct more than 180 aircraft, operating from bases between the Baltic Sea and Gibraltar. But although this "rising giant called EATC" is a successfull lighthouse project in Pooling and Sharing, the new Commander knows, that nothing comes for free, facing e.g. the implementation of two Air Forces AT-fleets (Spain and upcoming Italy) into EATC structures: "With resources decreasing, demands rising, aging fleets and delays in the fielding of our new A400M we have to find better - and for sure sometimes new - ways in order to fulfil our commitments. All that counts at the end of the day is the added value that EATC can provide for each Participating Nation."
Find the CV of General Badia here.
Find the CV of General Chiffoleau here.
Words: Norbert Thomas
Pictures: EATC PAO