An EATC assigned Airbus A310 MRTT (Multi Role Transport Tanker) of the German Air Force landed at Dakar, Senegal to refuel French fighter aircraft as part of the AFISMA-mission.
The provision of the tanker aircraft followed a decision by the German parliament on this Thursday. France had officially requested for German assistance in AAR-matters. Although German tanker aircraft were able to do so in the past, a few technical certification processes became necessary, which have been successfully certified in last weeks.
The German Airbus A310 MRTT, belonging to the Special Air Mission Wing (MoD) in Cologne-Wahn, deployed on the 2nd of March to be based in Dakar, Senegal.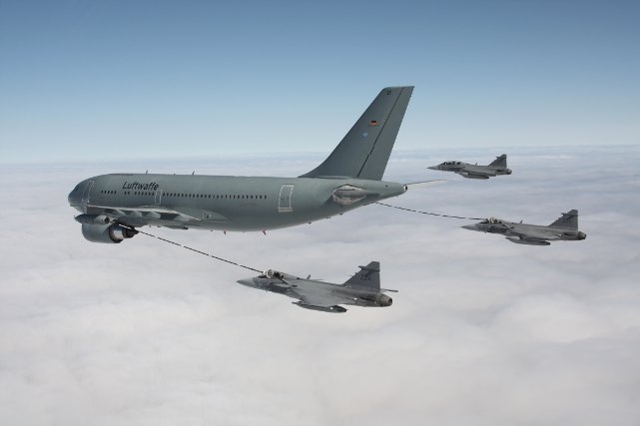 Successful certification
The German Air Force had refueled first French combat aircrafts in the air at the 20th of February 2013. During the 90-minute training mission in a defined airspace an Airbus A310 MRTT had supplied a total of 10.8 tons of fuel on three jets of the type Dassault Rafale, approaching from the Air Base of Monte Marsan.
Further testing during the refuelling processes succeeded also to the certification of Mirage type 2000 and F1, where a total of 12.6 tons of fuel was supplied.

Find the official German Air Force version (in German language) here
Find more about EATC assigned aircraft at AFISMA mission here
Text: Norbert Thomas
Pictures: WTD 61, SIRPA, Martin Gesenhoff
Article has been updated twice