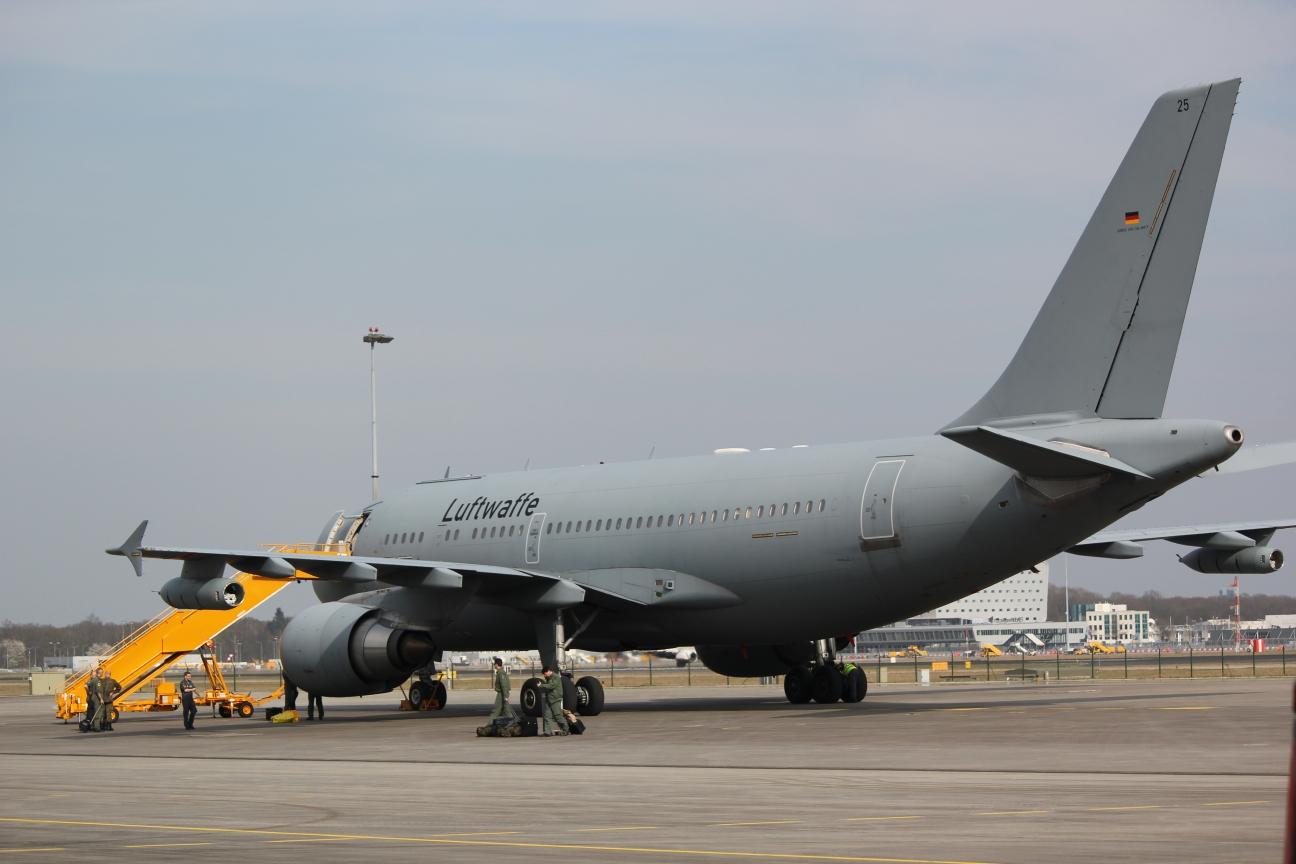 Aircraft on the plattform after arrival
The first multinational European training on Air-to-Air refuelling (AAR) began Saturday afternoon at precisely 3pm with the German tanker aircraft Airbus A310MRTT landing at Eindhoven Air Base.
The day after, Dutch and German soldiers got their first in-brief on the new created training, a coproduction of the Dutch Air Force and the European Air Transport Command, initiated by the European Defence Agency (EDA). The overall briefing was introduced by Lieutenant Colonel JMH (Howard) Colson, Squadron Commander of the 334th Squadron which runs the Dutch KDC-10 and same time hosts this first training event. Within his welcome words he underlined the necessity to expand and exchange the experience in AAR-matters.
Having done this, he gave over to Dutch Major Fred Froehlich, Exercise Director of EART 2014, who introduced some specialists at the briefings beginning: After a short look on the weather forecast, it was a Flight Safety Officer of the Eindhoven Air Base Tower Control to introduce the delegations into the Air Base itself as well as into the complex air traffic environment at and around Eindhoven Air Base, especially with regard to the fact, that the neighbored civil Eindhoven Airport represents the second biggest airfield of the Netherlands.
Next "on stage" was the Intelligence Officer who explained the overall scenario, Frisian Flag 2014 as well as EART 2014 are acting upon, followed by the Chief Flight Safety Officer of Eindhoven Air Base who described the air space boundaries and emphasized the necessity of precise communication among the acting players.
While an in-brief was given in parallel 250 km north at Leeuwarden Air Base for the Frisian Flag participants, it was at Eindhoven Air Base again Major Froehlich who took the floor and outlined the tactical scenarios in his operational EART in-brief. After presenting the training objectives and the exercise set-up, he explained the rules of engagement (ROE) as well as the training rules to be tackled for specific scenarios or situations for a training that takes place over Dutch, German and Danish ground, though mainly operating over the North Sea.

EART 2014 started its first mission (see picture above right) today - punctually at 9.00 local with the Airbus A310 rising again...
Find more about EART here

Words: Norbert Thomas
Pictures: Thomas/Pleger
Article has been updated once, version as of today 9.45 am
Major Froehlich at the briefing