The Covid-19 coronavirus has created extraordinary challenges. In the past weeks, these challenges have confirmed EATC's commitment to the seven member nations, the professionalism of the team "EATC" and the acknowledgment of EATC's concept. Read our factsheet for facts and figures!
"The pandemic outbreak has shown the importance of having in place a standing multinational command, such as EATC, specialised to plan, coordinate and facilitate any missions related to this unpredictable crisis", states Major-General Laurent Marboeuf, Commander EATC.

Since the start of the coronavirus pandemic late January, EATC has commanded and controlled air mobility missions, taking into account the needs and challenges of the member nations. Immediately, EATC was confronted with short notice tasks and changes to existing ones associated with the closure of borders, airspace or airports, limitations on cargo loading, additional customs checks, medical constraints, etc... EATC accepted the new challenges without any organisational or structural adaptation, while in the same time considerably reducing the staff presence. This in order to comply to the guidelines for ensuring sustained HQ operation and safeguard the health of our personnel.
The key to successfully tackle these challenges are the exceptional expertise and the multinational mind-set of the EATC staff. Moreover EATC's procedures and concepts, well-established over the past ten years, are compliant to cope with unforeseen crisis, as the Covid-19 outbreak. And for any new constraints, such as for medical evacuation of Covid-19 infected patients, EATC's medical team issued in a blink the applicable recommendations and advised its member nations.

"Today EATC is the centerpiece for air mobility in Europe and through the Covid-19 crisis, EATC facilitated the solidarity among the member nations and proved its added-value as an effective and operational tool for the air forces. We are a living example of the military cooperation in Europe!" says Major-General Laurent Marboeuf, Commander EATC.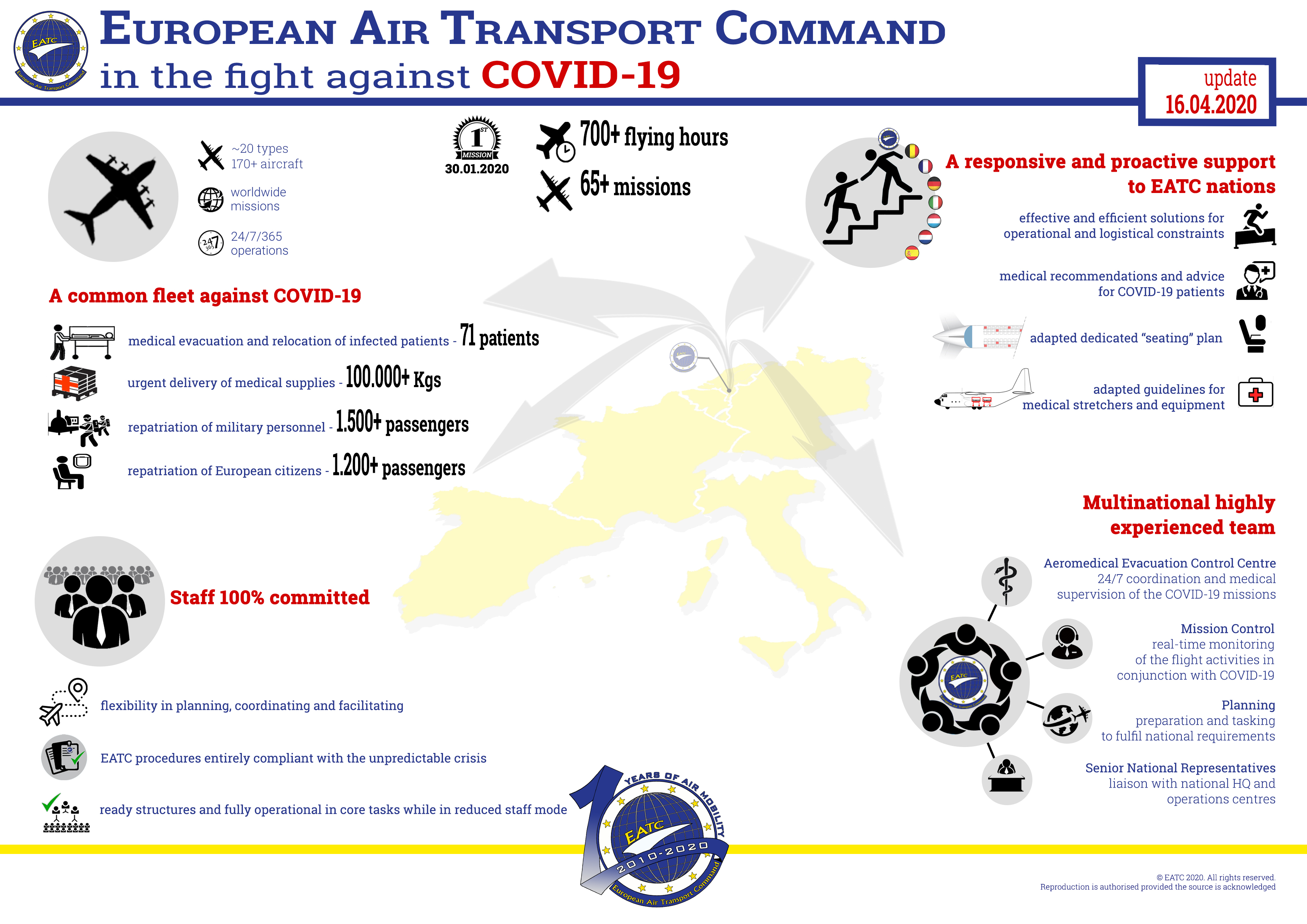 Pictures provided by EATC Nations