The EATC Aeromedical Evacuation Control Center
Besides the operational "Planning", "Tasking" and "Mission Control Branch", a fourth important part of the operational division of the EATC is the Aeromedical Evacuation Control Center (AECC).
This center, staffed by Aeromedical Evacuation specialists (4 flight surgeons and 3 flight medics) coming out of the different participating nations, is responsible for the coordination and the supervision of the evacuation of soldiers from anywhere in the world to their home country or to a safe place where better medical care is available. This type of evacuation is called Strategic Aeromedical Evacuation (StratAE).
In 2013, the EATC AECC managed the transport of 1307 patients. Patients have been repatriated from out of 90 countries all over the world, proving that StratAE is a worldwide mission.
More Cross-nationality is the future goal
The scope of the AECC is to provide synergistic effects by repatriating patients in cross-national flights, meaning that a patient is transported by an aircraft of another EATC partner nation.
A very good example for a truly cross-national mission occurred in July 2013:
A French paratrooper with a fracture of a lumbar vertebra was repatriated from Eastern Germany on board of a German MedEvac C-160 with a German MedEvac crew and a French flight nurse to enhance the team, promote interoperability and last but not least provide best possible care for the patient.

AECC aims at cross-nationality
But the EATC AECC not only coordinates evacuations of patients from the EATC Participating Nations:
In April 2013 the MedEvac version of a German Airbus A310 MRTT (located at the Special Air Mission Wing MoD in Cologne) took off towards Amman (Jordan), where injured Syrian people had been gathered from several hospitals in order to bring them to Germany and to provide high-standard medical care. On the way from Amman to Germany, the Airbus made stops in Stuttgart, Cologne, Hamburg and Berlin, before finally arriving back in Cologne. These stops were necessary to distribute the patients among several German Military hospitals. Some of the patients were brought from Cologne to Wittmund with a German MedEvac C-160 on the same day.
In order to execute cross-national StratAE missions the medical personnel has to be trained and certified on aircraft of different nations to comply with national and multinational regulations. With the introduction of new courses to train AE personnel on other nations' MedEvac aircraft and equipment the opportunity for cross-national training and qualification was established.
While the percentage of cross-national Strategic AE from ongoing missions could be improved, new operational areas with single Strategic AE hubs (e.g. Bamako) created the opportunity for significant enhancements. This increased number of cross-national flights was obtained by mainly utilizing already preplanned routine flights.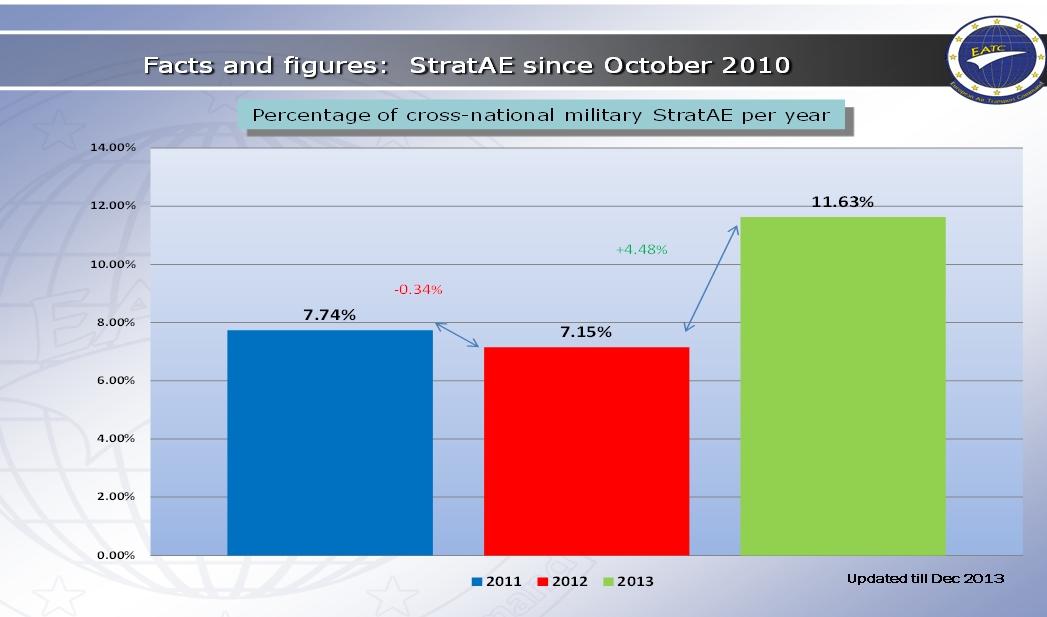 During the past years the number of cross-national missions could be increased continuously.
The following two cross-national Strategic AE missions were performed with dedicated aircraft in full AE configuration.
1. On 20 November 2013 a Belgian Embraer took off from Melsbroek with a Belgian medical team to pick up a German patient in Izmir. The patient was brought to the military hospital in Hamburg for urgent surgery. The Embraer landed in Hamburg in time and returned to Melsbroek after that. The Embraer is the ideal aircraft for this kind of distance and a low number of patients (up to three critical care patients).
2. On 22 November 2013 a German Airbus A-310 in full AE configuration took off from Cologne for a flight to Bamako. The German medical team was augmented with a French flight nurse, who travelled to Cologne one day earlier to join the German MedEvac crew. One German and nine French patients were picked up in Bamako and brought back to Cologne that same day. From there the French patients were picked up by a French CN-235 for the connecting flight to Paris.
Both recently performed missions demonstrate the gain in flexibility and efficiency achieved by this cross-national cooperation. Besides, mutual trust and confidence is increased in the involved medical personnel and responsible military commands.

World-wide engagement
In order to provide the best possible medical care to the patients, the EATC AECC can task several assets from the different EATC Partner Nations. Depending on the type of injury or disease, a PTU (patient transport unit equipped with monitoring, respirator, medication etc. for intensive care) or a basic stretcher can be used for the evacuation.
PTUs are available in the Belgian Embraer ERJ-135 and ERJ-145, in the French Falcon DA 900 and Boeing KC-135 (System MORPHEE) or the German Airbus A310, A319, A340 and C-160 Transall. Belgium just acquired 2 pallet-based PTUs to be used on C-130 and future A400M.
Basic stretchers can be installed in the Belgian, Dutch and French C130, the Belgian A330, the French and German Airbus A310, in the French Falcon DA 900,the German and French Transall C-160 as well as in the French Casa CN-235.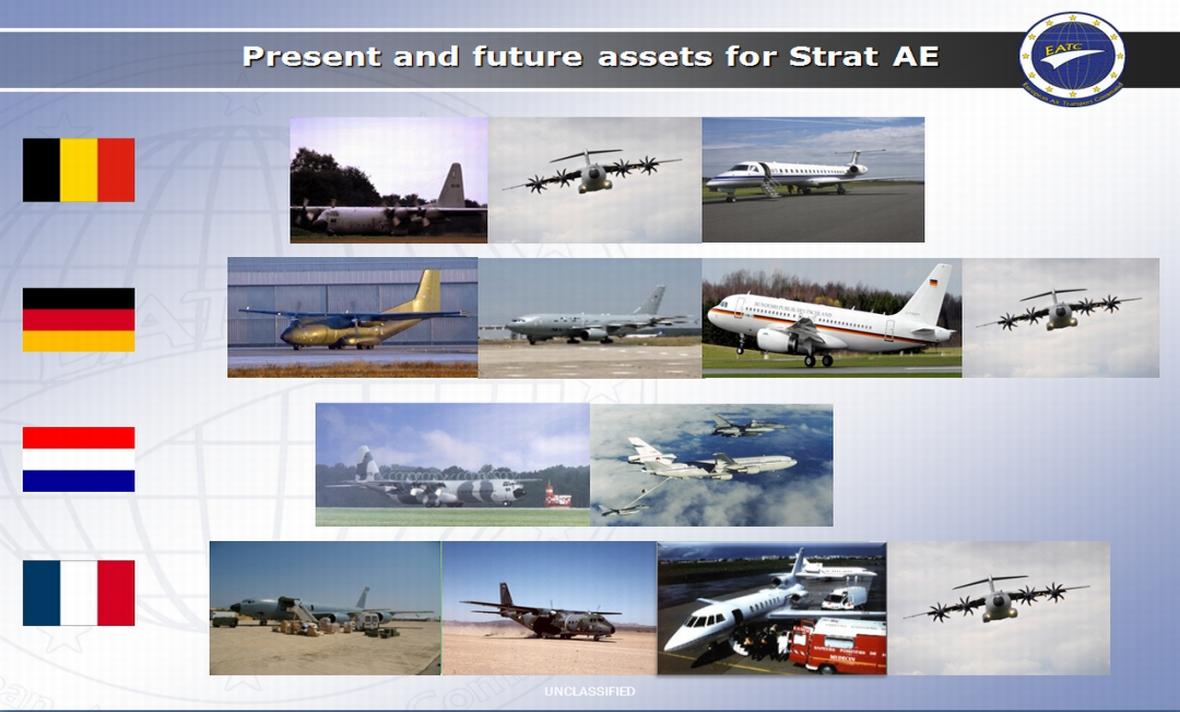 Service for the patients
AECC has access to a MedEvac fleet that is capable of managing nearly every emergency situation.
In the meanwhile, some of the aircraft used by AECC for MedEvac purposes are undergoing a - more or less - steady changing process: e.g. the aging Transall will be replaced in the future by the A400M, featuring more range, capacity and velocity.
Other aircrafts like the German Airbus A 310 MRTT remain "state of the art" in Strategic Aeromedical Evacuation and will stay in service for at least another decade.
Words and Graphics: AECC
Picture: German Air Force