Updated 10/05/2015 07:54
Four Spaniards died and two others were seriously injured in the crash of a military aircraft A400M that went down Saturday at about 13.00 local time next to the airport San Pablo North of Seville. The A400M undergoes final assembly at the Airbus Defence & Space plant in Seville.
At 12:45 local time the aircraft with the number MSN 23 started for a test flight with 6 people - all Spaniards - on board, one pilot, one co-pilot, one mechanic and three Airbus engineers. Only a few minutes after taking off, the pilot asked permission to come back to the airport, but just one mile from the landing strip the aircraft hit a pylon.
The A400M Airbus crashed North of Seville airport, which was closed for two hours to commercial traffic due to the crash. All flights were diverted to Malaga and Jerez.

The manufacturer Airbus announced that this A400M was intended to be delivered to Turkey (official Airbus statement) and that this was the first flight of that aircraft.
A crisis team composed of experts from Airbus and spanish official is now investigating the exact cause that led to the accident with MSN023.
Flightradar24.com has published the flightroute of an aircraft with transponder 34460E and callsign CASA423. According to Flightradar24.com that callsign belonged to the crashed A400M.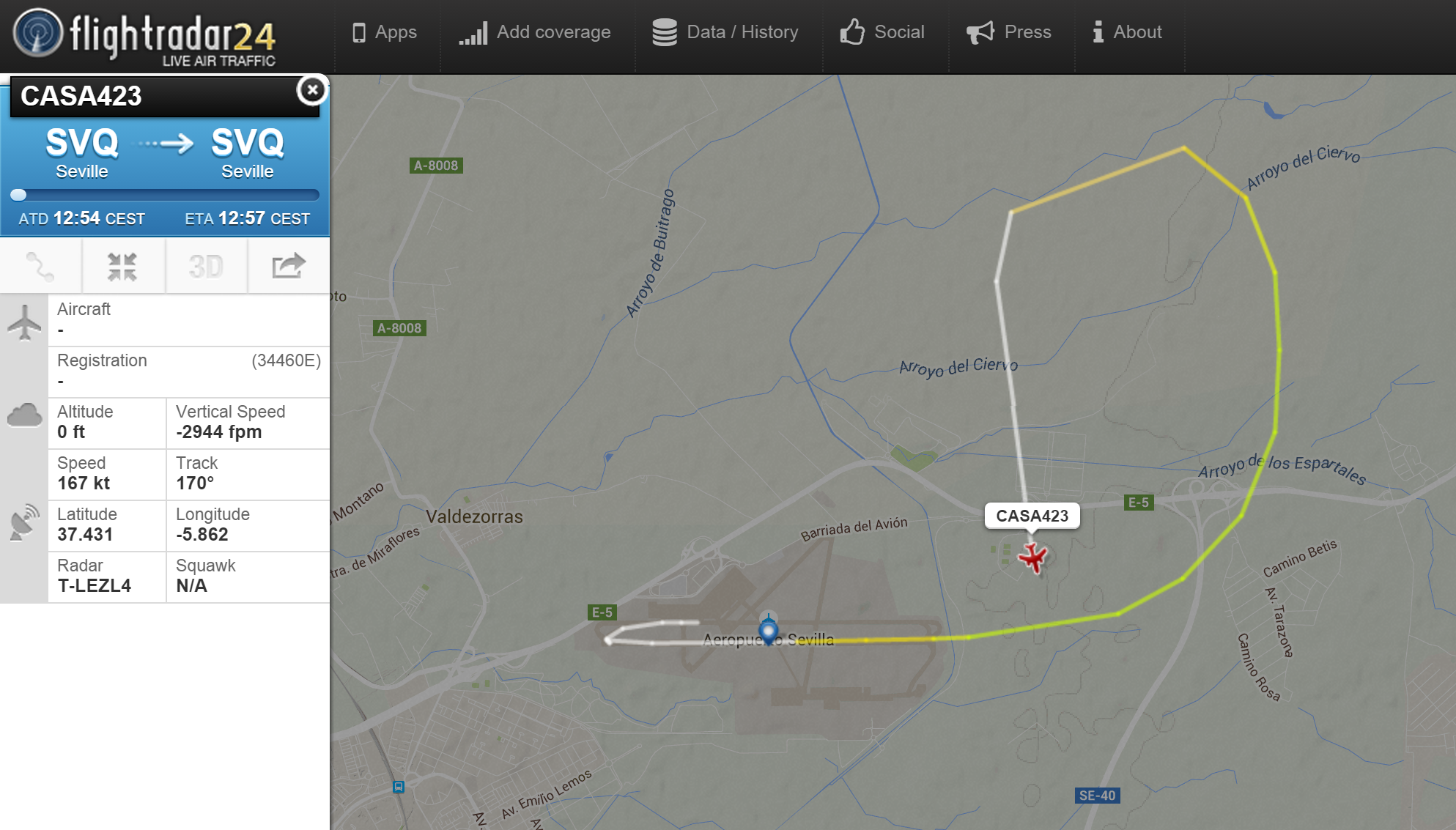 In its official statement, Airbus Defence and Space reveals that "All crew members are Airbus Defence and Space employees of Spanish nationality" but does not disclose the identity of the victims.
The crashed airplane "was foreseen to be the third aircraft to be delivered to the Turkish customer. The formal delivery was scheduled for June 2015", as Airbus DS reports.
The Spanish Prime Minister Mariano Rajoy expressed his emotion "We offer our support to the victims and their relatives and express our sorrow."
He canceled an election campaign rally in Tenerife, Canary Islands. "I have to ask for this meeting to come to an end, because I have just been informed that an Airbus airplane has crashed,".
Moreover the Spanish Prime Minister expressed his fear about the consequences of this crash: "I hope that the accident does not compromise the European project". Rajoy called on Airbus for a "maximum transparency" to clearly explain the reasons for the tragedy. "An event like this is not the best thing that can happen to an industry like ours (...)" he added.
Find the video here.
Find pictures of the crash on the site of AFP, Spiegel online or Twitter.
First videos of the crash have been published on youtube (1) (2).
Find more information concerning the A400M here.