The European Defence Agency (EDA) and the European Air Transport Command (EATC) today established a new cooperation framework - through an exchange of letters - that will further strengthen the ties between the two organisations.
The exchange of letters, which took place at the EDA premises in the presence of EATC Commander Major General Laurent Marboeuf and EDA Chief Executive Jorge Domecq, builds on the already existing, good cooperation between the two following the trilateral Letter of Intent concluded between EDA, EATC and OCCAR-EA in January 2018 and which focused on the joint optimisation and development of the A400M capability within the remit of EATC.
The letters exchanged today identify new areas for enhanced cooperation between the EDA and EATC, inter alia:
Air Mobility (including airlift, air-to-air refuelling, aeromedical evacuation, air dropping activity and logistical and technical supporting functions);
Fixed-wing training cooperation in the domains listed above;
Military Aviation (including in the context of the Military Airworthiness Authorities Forum and the progressive introduction of a Total System Approach to Military Aviation);
Military Mobility in the framework of the EU action plan (including ground handling and dangerous goods activities);
Other cross-cutting activities subject to interactions.
The new cooperation framework will allow EDA and EATC to make the best use of available resources to achieve common objectives within their respective scopes of competence. The EDA Chief Executive and the EATC Commander will meet on an annual basis to discuss the implementation of this cooperation.
EDA Chief Executive Jorge Domecq welcomed the enhanced cooperation with EATC. "I am confident that, through our cooperation, EDA and the EATC can bring added value to our respective Member States by reducing administrative burden, improving exchange of expertise and facilitating common action thereby avoiding unnecessary duplication and making the best use of our respective resources", Mr Domecq stated.
EATC Commander Major General Laurent Marboeuf stated: "I welcome this deeper cooperation with EDA which, through the pooling of expertise of two main European defence organisations, will ease the multinational military operations and support our Participating Nations / Member States in the aviation and Air Mobility domains"
More information:
• EDA Webside :https://www.eda.europa.eu/info-hub/press-centre/latest-news/2019/09/17/eda-and-eatc-further-deepen-cooperation.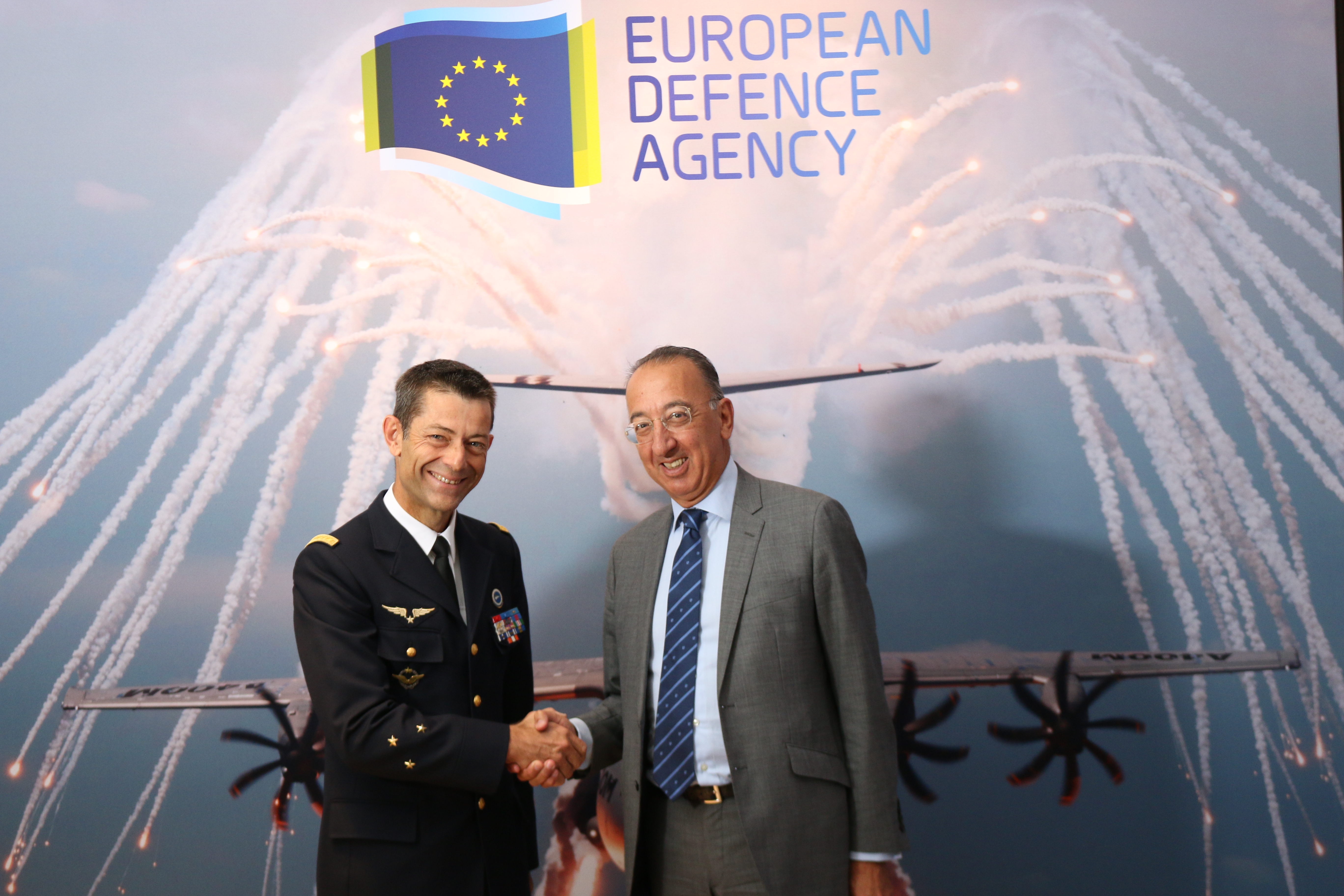 Copyright by European Defence Agency