… explains Brigadier General Andreas Schick, Chief of Staff of the EATC and an experienced fighter jet pilot. "Tanker aircraft commanders are taking over responsibility for the receivers on strategic deployments, are supporting malfunctioning jets for a safe landing, are constantly adapting to dynamic scenarios in operations and forced to operate in a threatening environment."
And this needs to be trained. This is why EATC leads the yearly multinational "European Air Refuelling Training" – EART, bringing together air/ground crews and tankers from different nations. To optimise the training, EATC combines EART with a fighter exercise, preferably multinational. This year's edition, EART 2018 is hosted by the Eindhoven airbase and pooled with the Dutch fighter exercise, Frisian Flag (FF18). EART 2018 and FF18 train according to their own training objectives, with EART in support of the fighter exercise.
EART permits the tanker crews to "operate" from a deployed operating base, different from their home base and to train with multinational receivers. This is especially important in order to reinforce scenarios that the crews are not regularly exposed to and to offer a complex and realistic framework for training planning and executing missions. This is why the training objectives are adapted to each EART edition. Last year, 96% of the training objectives were reached.
In 2018 air and ground crews are trained in quick turnaround execution. The focus is for example put on degraded communication procedures training missions with (simulated) communication jamming. The participating tankers also perform "accompanied let-down" helping another aircraft to land. Moreover they act as an "on-scene commander" in a simulated pilot crash training "combat search and rescue" procedures.
Train as we fight and fight as we train.
Another planned training objective is the (simulated) long endurance missions and night air-to-air refuelling. EART 2018 also emphasizes on the Rendez-vous procedures between first of all tanker and receivers and second tanker to tanker.
Future training objective will core the cell formation with three multinational tankers in formation. This training becomes especially important as the air space gets smaller and the formation needs to be compressed.
During EART 2018 the tankers fly two missions a day refuelling fighters from eight nations.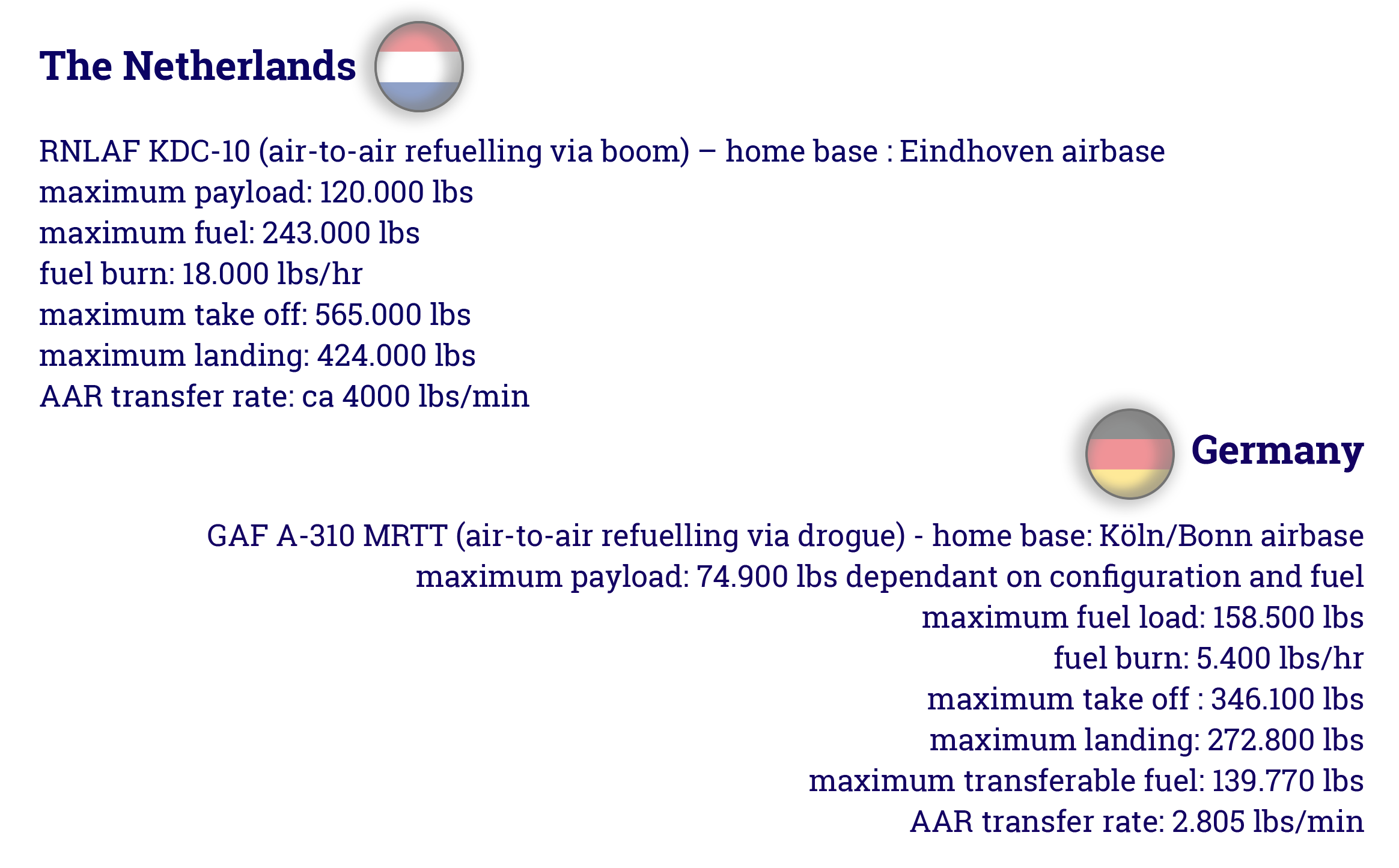 EATC is currently studying possibilities to offer in 2019 a double-phased EART training. The basic training would then be organised in spring together with the Eindhoven airbase and Frisian Flag. The second phase would train advanced technics and be hosted by another EATC member nation, in combination with a multinational fighter exercise.
Thanks to EATC's continuous efforts to offer multinational and effective air-to-air training to the nations, crews increase their know-how, exchange procedures and establish multinational relationships.
"EATC's slogan is integrated, innovative and effective. Where is this more correct and more valuable than in the field of air-to-air refuelling? Increased standardisation and interoperability are the main factors for a more efficient and effective use of this scare resource in Europe."
BG Schick, Chief of Staff EATC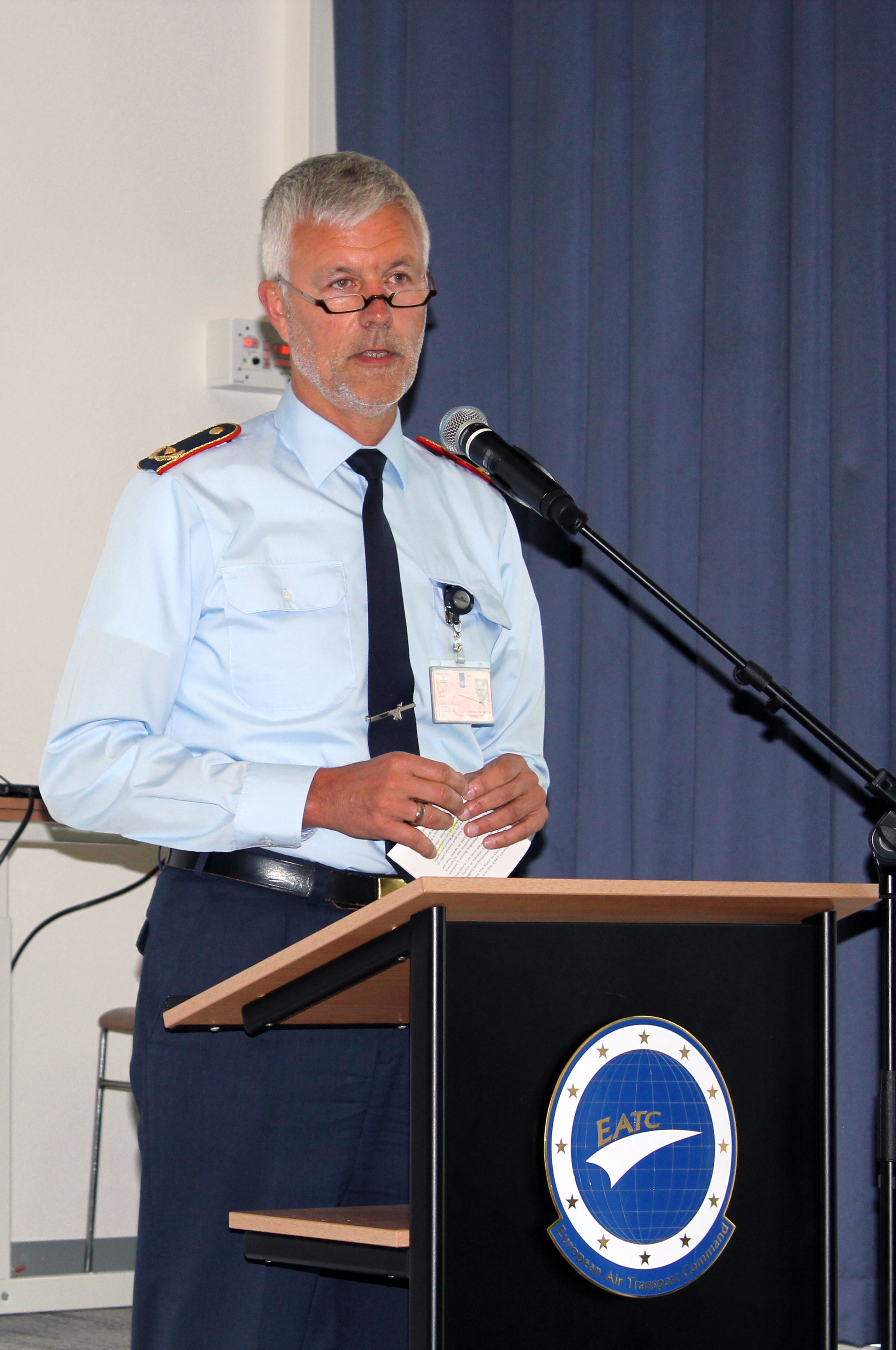 You can find more information in our EART 2018 factsheet.